Mark IV Churchill tank (A22)
History, technical sheet and photo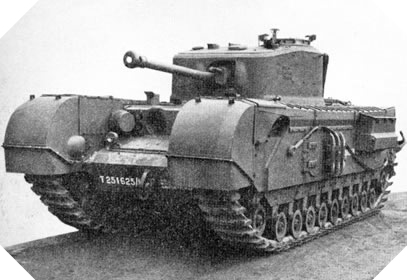 Mark IV Churchill tank history

When the British declared war on Germany in 1939, they decided to reinforce their armored fleet, considered too old. But in 1940, when the British engineers were studying a new model, French and British troops fled to Dunkirk: the bulk of the English tanks were in the hands of the Germans.
Faced with this problem, the activation of the arming project accelerates so that the first model is quickly available. But in the hurry, all the first models of this new tank, called Cromwell, suffer many defects.
The particular shape of the Mark IV chariot (initially A22 and known as "Churchill"), was designed by the engineers of Vauxhall Motors. This tank has the same structure as the initial model, Mark I, studied for the First World War.
Many improvements have been made since the creation of the Mark I, including the replacement of the obsolete 40 mm barrel by 57 mm and 75 mm barrels and improved shielding.
Weakly armed compared to German tanks, it owes its retention in the British Army to its thick armor. His baptism of fire takes place on the beaches of Dieppe in August 1942.
This chassis is used, like that of the American Sherman tanks, as the basic structure for many other versions (flamethrowers, anti-mines, bridge-layers, etc.) used by the British forces during the Normandy landing and known as Hobart's Funnies.
Copies of the Mark IV tank are also delivered to the Soviet forces on the eastern front.
Mark IV Churchill tank specification

Creator/User: Britain
Denomination: Mark IV Churchill tank (A22)
Length: 7,65 m
Width: 3,25 m
Height: 2,45 m
Weight: 39,600 kg
Maximum speed: 27 km/h
Operational range: 144 km
Main armament: QF 75 mm (6 pounder) Mk III ROQF
Secondary armament: two 7.92mm Besa machine guns
Engine: Bedford horizontally opposed twin-six petrol engine 350 hp (261 kW) at 2,200 rpm
Consumption: 334 liters per 100 kilometers
Crew: 5 (commander, gunner, loader/radio operator, driver, co-driver/hull gunner)
Front armor : 152 mm
Rear armor: 35 mm