PzKpfw V Panther tank – Ausf. G
History, technical sheet and photo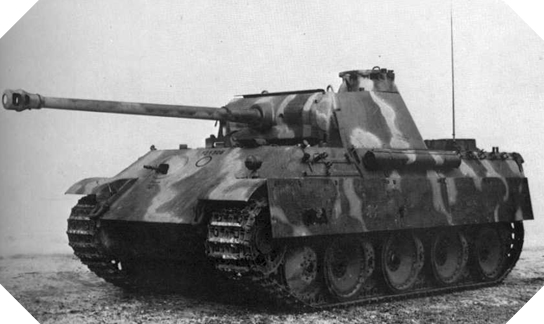 Panther tank history
Beginning in 1941, the Germans had to face the formidable Soviet tank T-34 and they did not really have enough armored vehicles to counter it. The German army immediately decided to create a tank capable of reinforcing its armored fleet.
After studies on T-34s captured on the eastern front, the first prototype was built in September 1942 by MAN. Production is immediately launched, and the armor requirements of the German Army are so strong that other companies, such as DB, Henschel and Maschinenfabrik Niedersachsen, also receive orders.
The PzKpfw V Panther received his baptism of fire on the eastern front in July 1943, despite the imposing mass of its armor (though rather weak on the side faces). Extremely efficient, Soviet tanks accused of heavy Losses and can hardly resist the attacks of the PzKpfw V Panther. On average, they must sacrifice nine of their T-34s to destroy a Panther.
The manufacture of this tank stopped in March 1945, when the allied bombing of German weapons factories had already very slowly slowed down the monthly production of the Panther tank, considered as one of the best German tanks of the whole of the Second World War, after the Tiger tank.
Panther tank specification
Creator/User: Germany
Denomination: PzKpfw V Panther G
Length: 8,66 m
Width: 3,27 m
Height: 2,85 m
Weight: 45,500 kg
Maximum speed: 55 km/h
Operational range: 257 km
Main armament: one 75 mm Kwk 42 L/70 gun
Secondary armament: one 7,92 mm MG 42 machine gun, one 7,92 mm MP 44 machine gun
Engine: V-12 petrol Maybach HL230 P30, 700 PS, 690 hp, 515 kW
Consumption: 280 liters per 100 kilometers
Crew: 5 (commander, gunner, loader, driver, assistant driver)
Front armor: 110 mm
Rear armor: 16 mm