Airborne Troop Steel Helmet Mark II
History, technical sheet and photo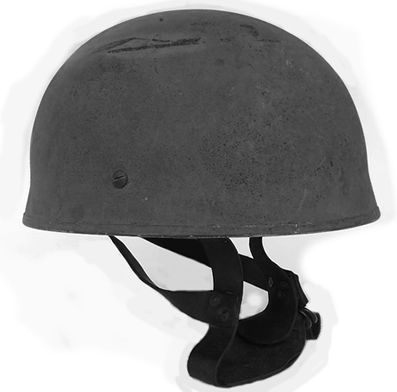 Airborne Troop Mk 2 helmet history

The arrival of the airborne component in the armies requires the modification of the equipment which also involves the transformation of the helmet. This new weapon during the Second World War requires the development of a protection adapted to the jump (limiting the catch to the wind) and during the landing (to the detriment of the protection of the skull and neck flanks). The Germans are developing a simple helmet which the British are inspired to develop their own.
The British parachutists and the soldiers transported on board gliders were then equipped from 1941 with the P-Type simple airborne helmet, without visor or lateral protection, to the leather or web jugular (for the last copies to to be produced). A foam shock absorber keeps the skull and the wearing comfort of the cap. But as of June 24, 1942, new models were produced: the Airborne Troops Mk 1 model and the more comfortable Mk 2, which capes British airborne troops during the Battle of Normandy.
This helmet also equips the Canadian airborne troops, also engaged in the Battle of Normandy. It is also distributed to Anglo-Canadian tank crews.
Airborne Troop Mk 2 helmet specification

Creator: Britain
User: Britain – Canada
Denomination: Airborne Troop Steel Helmet Mk 2
Total weight: 1,3 kg
Material: Chrome-nickel steel
Basic color: gray matt