WW2 American M1 steel helmet
History, technical sheet and photo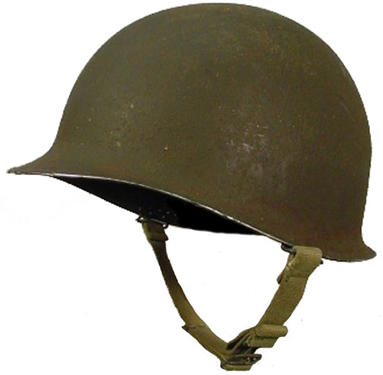 American M1 steel helmet history
When the Second World War broke out in Europe, American soldiers were still equipped with the 1917 flat helmet, the M-1917 A1, entirely inspired by the British model.
The American army decided in 1941 to change the helmets of its soldiers and the production of the metal helmet M1 begins. The latter is then composed of two distinct parts: an external part of steel-carbon-manganese, heavy and olive Drab, and an inner part called liner, much lighter, made of vulcanized fiber. Inside the liner, straps adjust the comfort of the helmet according to the user's turn of head.
Different versions are developed, particularly the M1C steel helmet, worn by American paratroopers during the Battle of Normandy, on which is added a particular chin strap. Other models equip the U.S. Air Force and the U.S. Navy.
Although it does not protect the neck of the soldier, this helmet is nevertheless used throughout the Second World War: after 1945 it continues to be worn and also in many foreign armies as in France. The United States uses it until 1985, the Israeli reserve forces until 2006 and the Japanese army still wears it in 2011. Today, this model of helmet equips some African troops and police.
American M1 steel helmet specification
Creator/User: United States of America
Denomination: M1 Steel Helmet
Number built: 22,000,000 (from 1941 to 1945)
Total weight (with liner): 1,3 kg
Material: carbon-manganese steel
Color: olive Drab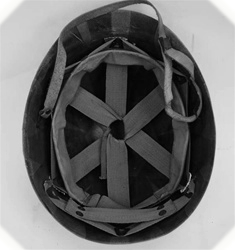 M1 steel helmet liner