Universal Bren Carrier N°2 Mk I
History, technical sheet and photo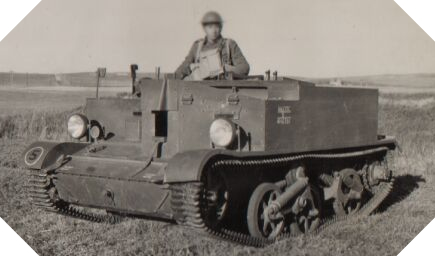 Universal Bren Carrier history
At the outbreak of the Second World War, the British Army did not have a sufficiently effective reconnaissance and support vehicle for infantry. The British military engineers were then given the task of building a new vehicle capable of fulfilling this role.
Thus, in 1940, the first models were built and were soon engaged in the Allied armed forces who wanted to acquire this vehicle. Its mode of operation is simple: it is a matter of providing the infantry with a rapid craft capable of protecting the soldiers from the firing of small arms and at the same time supplying a heavy fire.
The rectangular shape of the Universal Bren Carrier allows 5 people to settle on board and open fire from inside; In addition, a Bren-type heavy machine-gun (hence its name) can be placed in a specially designed structure.
In other cases, the Universal Bren can carry equipment, intervene with an 81 mm mortar or an anti-tank rocket launcher on board.
The Universal Bren Carrier was highly appreciated for its formidable mobility and speed. It was used on all fronts of the Second World War.
Universal Bren Carrier N°2 Mk I specification

Creator/User: Britain
Denomination: Carden Loyd Universal Carrier N°2 Mk I
Length: 3,75 m
Width: 2,10 m
Height: 1,60 m
Weight: 4,250 kg
Maximum speed: 51 km/h
Operational range: 256 km
Armament: one 7,7 mm Bren light machine gun
Powerplant: Ford V8 petrol 85 hp at 3,500 rpm
Crew: 5
Armor: 12 mm