Daimler Scout Car – Dingo
History, technical sheet and photo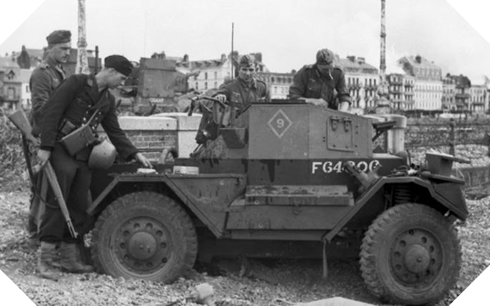 Daimler Scout Car history

In 1938, the British War Department issued a call for tenders to equip its armed forces with a light reconnaissance vehicle. The model proposed by the company B.S.A. (Birmingham Small Arms) is selected: it is the scout because nicknamed "Dingo". BSA was subsequently bought out by Daimler, which supplied most of the production during the war.
Small (it hosts two personal) but well protected by a plate of shielding of 30 mm in the front, this vehicle has an innovative system of speeds allowing to benefit from five speeds in all the directions. Indeed, the vehicle must be able to disengage quickly in the event of an attack by the opponent insofar as its primary mission is the acquisition of intelligence. Thus, the pilot's seat is not directly facing the road but slightly slanting to allow it to head more easily in the event of a course change. Its three openings at the front allow it to both observe and use light weaponry like a Bren machine gun.
On the other hand, one of its weak points lies in the flat structure of its chassis bottom which makes it extremely sensitive to the danger of mines. It made his baptism of fire in 1940 during the Battle of France among the ranks of the British 4th Nurthumberland Fusiliers Regiment. The Canadiens also produce this scout car and call it "Lynx". The Dingo was used during the Battle of Normandy, where it gave massive information to Anglo-Canadian forces.
Several specimens were used as they were by Great Britain after the Second World War until the announcement in 1952 of its replacement by the Daimler Ferret. However, Dingo were still used by other armed forces until the 1970s, such as Cyprus or Portugal.
Daimler Scout Car specification
Creator: Britain
User: Britain (Dingo), Canada (Lynx)
Denomination: Daimler Scout Car Dingo Mk 1
Number built: 6,626
Length: 3,20 m
Width: 1,70 m
Height: 1,50 m
Weight: 3,000 kg
Maximum speed: 88,5 km/h
Operational range: 320 km
Armament: one 7,7 mm Bren light machine gun
Engine: 2.5 litre 6-cyl Daimler petrol 55 hp (41 kW)
Crew: 2 (1 driver, 1 spotter)
Armor: up to 30 mm