SdKfz (SonderKraftfahrzeug) 222
History, technical sheet and photo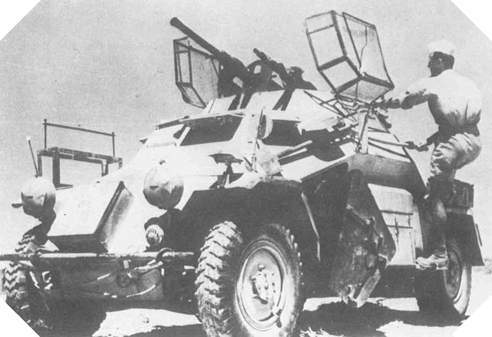 SdKfz 222 armoured car history

Beginning in 1935, Germany revived its arms industry and equipped itself with all the necessary equipment for the realization of Blitzkrieg, the lightning war. This is also the case for linking and reconnaissance vehicles, of which many models are imagined.
The Leichter Panzerspähwagen (Light Armored Reconnaissance Vehicles) range is made up of 4×4 wheeled vehicles. One of these models, the SdKfz 222, is designed from the chassis of the sPkw I Horch 801 heavy vehicle, to which is added an armored armature and a machine gun turret.
Lightweight, this vehicle progresses rapidly on the road but is not as agile off the trails. As such, it operates more as a liaison vehicle than a combat reconnaissance vehicle. An anti-grenade netting device protects its turret which is not covered. The latter houses a 20 mm gun (2 cm KwK 30 L/55). Versions of the SdKfz 222 reinforced with a 28 mm mortar are also created.
This vehicle participates in the Battle of Normandy in the framework of intelligence missions, convoy escorts or transport of authorities.
SdKfz 222 armoured car specification

Creator: Germany
User: Germany, China
Denomination: SdKfz 222
Length: 4,80 m
Largeur : 1,95 m
Height: 1,70 m
Weight: 4,000 kg
Maximum speed: 80 km/h
Operational range: 300 km
Main armament: one 2 cm KwK 30 L/55 gun
Secondary armament: one 7,92 mm MG 34 machine gun
Engine: Horch 3.8 V8 petrol 90 PS (66 kW, 89 hp)
Crew: 2
Armor: from 5 to 14,5 mm