SonderKraftfahrzeug SdKfz 234 Puma
History, technical sheet and photo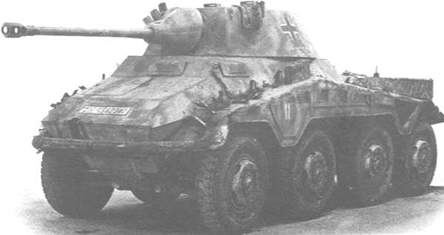 SdKfz 234 Puma history

Germany, preparing major offensives in the desert regions of North Africa, decided in 1940 to equip itself with an armored wheeled vehicle in order to eliminate a number of difficulties caused by the maintenance of tracked vehicles in the desert.
In July 1942, the engineers of three companies (Daimler, Schichau and Büssig) developed the eight-wheel-drive SdKfz (SonderKraftfahrzeug) 234 armored vehicle with an air-cooled engine.
The production of SdKfz 234, dubbed "Puma", is increasing from 1944 and this armored vehicle was used very quickly to carry out missions of reconnaissance and support to the infantry.
Equipped with a long barrel KwK 39/1L/60 of 50 mm, it is also endowed in the turret of six tubes grenade launcher for the close protection of the vehicle.
The SdKfz 234 is a highly efficient reconnaissance vehicle with an impressive range of 900 kilometers.
SdKfz 234 Puma specification

Creator/User: Germany
Denomination: SdKfz 234
Length: 6,02 m
Width: 2,36 m
Height: 2,28 m
Weight: 11 500 kg
Maximum speed: 90 km/h
Operational range: 900 km
Main armament: one 5 cm KwK 39/1 L/60 gun
Secondary armament: one 7,92 mm MG 42 machine gun
Engine: 14,825 cc (905 in3) Tatra 103 V12 diesel 157 kW (210 hp)
Fuel consumption: 334 liters per 100 kilometers
Crew: 4
Front armor: 30 mm
Rear armor: 5 mm