SdKfz (SonderKraftfahrzeug) 250
History, technical sheet and photo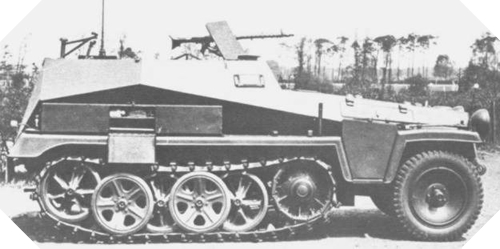 SdKfz 250 history

In the 1930s, the French army dominated the world field of military half-track, and this is far from the case of the German army at the same time. Also German military engineers are ordered to draw a new half-track, to modernize their fleet.
With the approach of the year 1939, a first prototype is validated. It is called SdKfz (SonderKraftfahrzeug) 250 and must provide direct support to the infantry, while performing reconnaissance missions. The production of this vehicle starts from the year 1940.
Once in service in the German Army, the SdKfz 250 is not only used as an infantry transport, which can contain two crew members and four or more men if other people place themselves on the hood, as was often the case But also as a mobile command post or as an ambulance.
Moreover, different versions of the half-track were also produced throughout World War II and until 1944, more or less adapted to the use of this vehicle by German soldiers who sometimes transform themselves the structure.
In spite of its title of "vehicle to do" of the German army, the SdKfz remains however a very sensitive machine to the enemy fire. Its armor stops small weapons projectiles or chips but does not protect against heavy machine gun fire.
SdKfz 250 specification

Creator/User: Germany
Denomination: SdKfz 250
Length: 4,56 m
Width: 1,95 m
Height: 1,98 m
Weight: 5,610 kg
Maximum speed: 65 km/h
Operational range: 350 km
Armament : two 7,92 mm MG 34 machine guns
Engine: Maybach 6-cylinder, water-cooled HL42 TRKM petrol 100 PS (99 hp, 74 kW)
Crew: 2 (driver, radio-operator)
Transport capacity : 4 personnel
Front armor: 15 mm
Blindage arrière : 6 mm