HMS Arethusa
Index of Allied warships during Operation Neptune
History, technical sheet and photo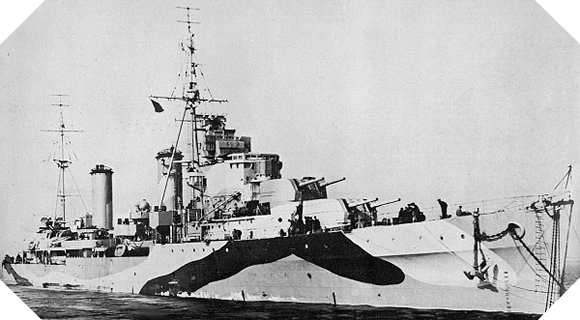 HMS Arethusa history

HMS Arethusa was launched on 25 January 1933 and entered service on 23 May 1935 (its first commander was Captain Philip Vian, who was to take command in January 1944 of the Eastern Task Force, which gathers all the ships intended for the beaches of Gold, Juno and Sword).
Deployed in the 3rd squadron of cruisers operating in the Mediterranean sea until 1939, it was recalled to the English Channel the following year to be transferred to the 2nd fleet of cruisers. It participated in the Norwegian campaign of April 1940 and the bombing of the French fleet at Mers-el-Kebir on 3 July (1,297 French killed).
After having escorted many convoys in the Atlantic, it carried out the same mission in the Mediterranean sea before participating in the Lofoten raid in December 1941 during which it was damaged and then had to be repaired. HMS Arethusa resumed service in June 1942, again in the Mediterranean. On 18 November, during Operation Stoneage, it was severely damaged by an Italian torpedo which also sows death on board: the repairs immobilized it for more than a year in both the port of Alexandria and in the United States.
Back to action in June 1944, it participated in Operation Neptune off Sword Beach and bombed the Merville battery on 6 June. Earlier in the night, it spotted the flares thrown by Major Otway's men indicating that British paratroopers seized the German strongpoint. A few days later, it transported King George VI, visiting the soldiers in Normandy.
In January 1945, Arethusa was transferred to the 15th squadron of cruisers in the Mediterranean sea until October, before being finally placed in reserve. In 1949 it was used to carry out a series of tests for the benefit of the engineers of the Royal Navy and then was scrapped on 9 May of the following year in the United Kingdom.
HMS Arethusa technical sheet

Creator/User: Britain
Denomination: 26 – H.M.S. Arethusa
Class: Arethusa-class light cruiser

Crew: 500 sailors
Armament (1944): 6x 152 mm guns, 8x 102 mm anti-aircraft guns, 8x 40 mm Bofors guns, 16x 20 mm Oerlikon guns, 6x torpedo tubes of 533 mm
Displacement: 6,665 tons
Speed: 32 knots
Length: 154 m
Beam: 16 m
Draught: 5 m