HMS Bulolo
Index of Allied warships during Operation Neptune
History, technical sheet and photo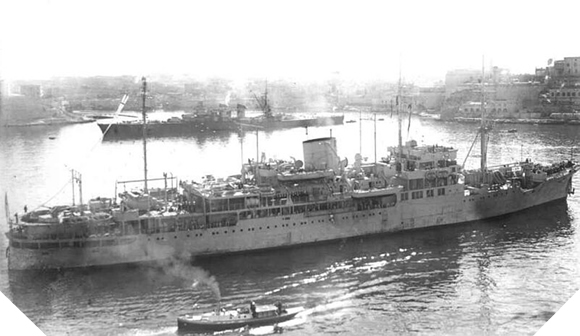 HMS Bulolo history
Shortly before the start of the Second World War in Europe, the Glasgow Shipbuilding Company launched in May 1938 a passenger ship and cargo bound for the Indian Ocean, the MV Bulolo. By decision of the British Ministry of War, this ship was requisitioned by the Royal Navy which turned it into a merchant navy building before being modified in March 1942 to become a command building.
Deployed in the Mediterranean Sea, it participated in various amphibious operations before returning to the Channel. Shortly before landing, Admiral Douglas Pennant, who commanded it, was visited by King George VI on May 24, 1944. As part of Operation Neptune, it was employed as the flagship of Task Force G bound for Gold Beach and carries the headquarter of the 30th British Corps. Arrived off Arromanches on D-Day, it is caught under the fires of the Longues-sur-Mer battery and must retreat out of range of its shots.
On June 7, the Germans launch an air raid that causes damage to HMS Bulolo. Still, it stays in the area to complete its mission and it is only twenty days later that it is heading to Portsmouth.
This ship is then deployed in Southeast Asia where it ends the war.
HMS Bulolo technical sheet
Creator/User: Great-Britain
Denomination: H.M.S. (MV) Bulolo
Class: transport ship
Crew: 140 sailors
Armament (1944): 7x 152 mm guns, 2x 76 mm guns
Displacement: 6,267 tons (combat order)
Speed: 15 knots
Length: 122 m
Beam: 17,7 m
Draught : 7,7 m