HMS Cattistock – L 35
Index of Allied warships during Operation Neptune
History, technical sheet and photo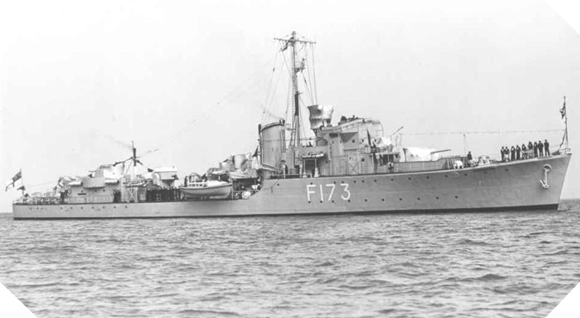 HMS Cattistock history
The HMS Cattistock was launched on February 22, 1940. It was the second warship of the Royal Navy to bear the name after a mine-dragger built in 1917. After sea trials, it integrated the Home Fleet and in particular the 21st fleet of destroyers with which it carried out several missions of patrolling and escorting convoys along the British coasts, in the English Channel and as far as the North Sea.
In July 1942, it was preparing to be deployed during Operation Jubilee in Dieppe: slightly damaged by direct enemy shots during the escort of the landing craft, it subsequently resumed its patrol missions in the Channel.
In November 1942 it escorted convoys to North Africa during Operation Torch and then returned to patrol in English Channel waters in December.
Beginning in May 1944, the Cattistock was integrated into Task Force G in preparation for the Normandy landing. It is responsible for escorting the G1 convoy across the English Channel to Gold Beach on the night of June 5-6, 1944.
On D-Day, it supported the landing operations on Gold Beach and realized the following day patrols and escorts to the east of the Bay of Seine until July 7, when the HMS Cattistock is slightly damaged during an exchange of shots with German E-Boote speedboats.
Rapidly repaired in England, it was again engaged, this time off Cap Antifer on 29 August. During this operation, which aimed at intercepting German ships evacuating their troops from Le Havre, it was hit 26 times, one of the shots killing the captain on the deck. The destroyer began a campaign of repairs that spread until November. The following month it resumed patrols in the English Channel and the North Sea.
On March 26, 1946, the Cattistock was placed in reserve in Cardiff before being sold in 1957 to be scrapped.
HMS Cattistock technical sheet
Creator/User: Great-Britain
Denomination: L 35 – H.M.S. Cattistock
Class: Hunt Type I-class escort destroyer
Crew: 168 sailors
Armament (1944): 4x 101,6 mm Mk VI guns, 4x four-barrel anti-aircraft 40 mm Mk VIII pom-pom guns, 2x 20 mm Oerlikon Mk III guns, 110 anti-submarine grenades
Displacement: 1,458 tons
Speed: 27 knots
Length: 85,3 m
Beam: 10,16 m
Draught : 3,51 m