HMS Kempenfelt
Index of Allied warships during Operation Neptune
History, technical sheet and photo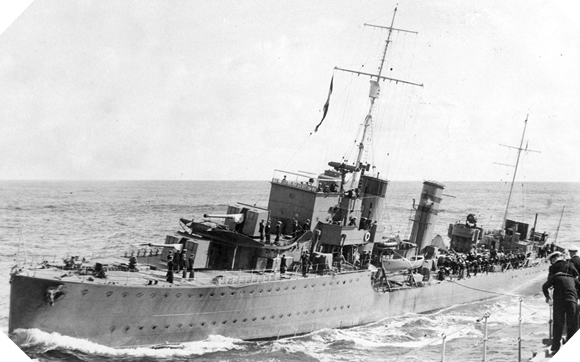 HMS Kempenfelt history
This W-class destroyer was launched on 8 May 1943 and entered active service on 25 October of the same year. Its initial name is HMS Valentine and then it is finally called HMS Kempenfelt. Engaged in December in the Mediterranean Sea within the 24th fleet of destroyers in order to participate in the amphibious operation Shingle off Anzio, it subsequently carried out missions of escort and patrol in the Mediterranean Sea from February to April 1944.
It was in May that HMS Kempenfelt returned to the English Channel to prepare Operation Overlord, within the 26th fleet of destroyers. On the night of June 5-6, 1944, it joined Task Force J, and more specifically Bombarding Force E, and participated in the naval fire support of Canadian ground forces at Juno Beach in front of Langrune-sur-Mer.
In July 1944 it joined the Home Fleet and was responsible for the safeguarding of the British coasts before participating in the 27th fleet of destroyers in the maritime and air raid against the German Tirpitz. Starting in October, HMS Kempenfelt is sent to the Indian Ocean where it participates in December in Operation Outflank in Sumatra and in January 1945 in Operation Meridian. The following month, it was appointed to the British fleet of the Pacific and then to the 5th US fleet on 22 March.
It was not until January 1946 that the Kempenfelt recovered the waters of the Channel where it was placed in reserve. In 1948, it was transferred to South Africa and was sold to Yugoslavia in 1956, which renamed it "Kotor". It was finally retired from active service and then scrapped in 1971.
HMS Kempenfelt technical sheet
Creator/User: Great-Britain
Denomination: R 03 – H.M.S. Kempenfelt
Class: W-class destroyer
Crew: 225 sailors
Armament (1944): 4x 120 mm L/45 Mk IX guns, 4x 40 mm pom-pom anti-aircraft guns, 4 additional positions for anti-aircraft guns, 70 anti-submarine grenades, 8x 533 mm torpedo tubes
Displacement: 2,530 tons
Speed: 32 knots
Length: 110,57 m
Beam: 10,90 m
Draught : 3 m