HMS Larg
Index of Allied warships during Operation Neptune
History, technical sheet and photo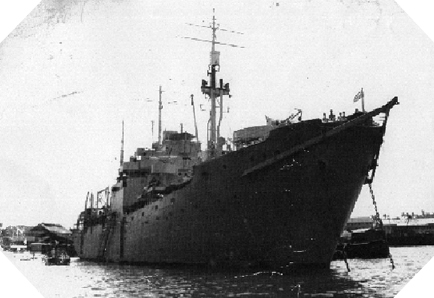 H.M.S. Largs history
HMS (Her Majesty Ship) Largs was originally a French merchant navy ship that came into service in October 1938. This mixed cargo ship, then named Charles Plumier, was transformed into an X11 auxiliary cruiser operating in the 5th Wing. In November 1940, she stopped in Gibraltar when the British decided to seize it. Rather than leaving it to the free French naval forces, the FNFL, the Royal Navy renamed it and transformed it into a projection and command building.
Engaged in the Mediterranean in numerous amphibious operations (Torch in North Africa or Husky in Sicily), she was deployed in the spring of 1944 in the Channel in anticipation of Operation Neptune. Flag-ship of Force S to Sword Beach on June 6, 1944, HMS Largs was damaged twice during the Battle of Normandy: first during an air attack of the Luftwaffe on the night of June 12-13, then a second time when a shot of mortar reached her while she was off Honfleur.
After participating in the landing in Provence in August 1944, she was deployed the following year in the Pacific and participated in numerous offshore operations in Thailand and Malaysia. After the war, HMS Largs was returned to France, which kept it until 1964 before transferring it to a Greek civilian cruise company which used it for four years. She was finally demolished in 1968 in Vado, Italy.
H.M.S. Largs technical sheet
Creator: France
User: Grande-Bretagne
Denomination : H.M.S. Largs
Class: freighter
Armament (1944): 1x 76 mm gun, 2x 40 mm guns, 14x 20 mm anti-aircraft guns
Displacement: 4,626 tons
Speed: 14,5 knots
Lenght: 104,45 m
Beaum: 15,8 m