HMS Royal Ulsterman
Index of Allied warships during Operation Neptune
History, technical sheet and photo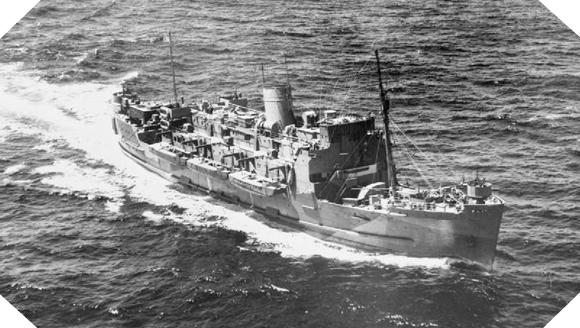 HMS Royal Ulsterman history
This ship was launched on March 10, 1936: designed to carry passengers, the Royal Ulsterman initially operates the shuttle between Belfast and Glasgow. When the Second World War broke out in Europe, it became part of the Royal Navy Reserve troop transport. In 1940, he participated in the Franco-British expedition to Norway and evacuated 2,800 soldiers (and three civilians) from Saint-Nazaire on 18 June.
The Royal Ulsterman took part in the Battle of Madagascar on 5 May 1942 as part of Operation Ironclad before being engaged in the Mediterranean for Operation Torch, transporting the Americans from the 1st Battalion of Rangers to the Algerian coast. Also deployed for the operations Husky in Sicily (July 10, 1943) and Avalanche in Salerno (September 9, 1943), it finds the waters of the Channel in the spring of 1944 to be renovated.
This troop transport building was then transformed to house the command post of Captain Fanshawe, in charge of Assault Group J.3. Integrated in Task Force J for Juno Beach, it crossed the English Channel during the night of June 5 to 6, 1944, towards the coast of Normandy. On D-Day, he disembarked elements of the 9th Brigade of the 3rd Canadian Infantry Division.
After the Second World War, the Royal Ulsterman resumed its maritime liaison work between Glasgow and Belfast until 1967. Engaged by a transport company in the Mediterranean, it was sabotaged in the port of Beirut in Lebanon on 3 March 1973. Irrecoverable, it is then scrapped.
HMS Royal Ulsterman technical sheet
Creator/User: Britain
Denomination: H.M.S. Royal Ulsterman
Class: troop transport
Crew: 236 sailors
Transport capacity: 800 soldiers, six LCA
Armament (1944): 1x 76,2 mm gun, 5x 20 mm Oerlikon anti-aircraft guns
Displacement: 3,250 tons
Speed: 16 knots
Length: 103,48 m
Beam: 14,55 m
Draught : 4,3 m