HMS Stevenstone – L16
Index of Allied warships during Operation Neptune
History, technical sheet and photo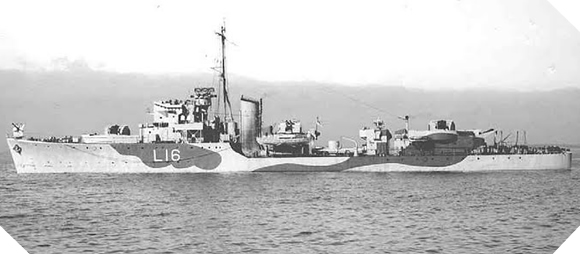 HMS Stevenstone history
This Hunt class III destroyer was launched on November 23, 1942 and entered service on March 18, 1943. It was initially proposed to the Free France Naval Forces, but negotiations were interrupted. It was then engaged in the 1st fleet of destroyers and carried out several patrols and intercept missions in the English Channel before escorting convoys to the Soviet Union.
In May 1944, as part of the preparations for the Normandy landing, it was integrated into Bombarding Force E, which was itself subordinated to Task Force J. On 3 May, HMS Stevenstone participated in the amphibious exercise Fabius and, during the night from June 5 to 6, 1944, it escorted the J9 convoy (comprising ten LSIs, three boats and two Coast Guard ships) across the English Channel to Juno Beach. On D-Day, it participated in the fire support of the Allied troops landing at Bény-sur-Mer.
On June 7, the destroyer began a series of patrols in the Bay of Seine while carrying out fire support missions. On 12 June, it was hunting E-Boote (German speedboats) off Le Havre before being transferred in September to the 16th fleet of destroyers operating in the North Sea. It was in this context that it succeeded in sinking an E-Boot on 31 October off Nieuport.
On 30 November it was struck by an underwater mine off the coast of Ostend, where the explosion and the ensuing fire resulted in fourteen killed and eighteen wounded. Repaired from January to May 1945 in Great Britain, it is integrated in August with the 3rd fleet of destroyers deployed in the Mediterranean Sea. But in May 1946, it collided with the frigate HMS Brissenden, which led it to be placed in reserve. The Stevenstone was finally sold to a scrap dealer in 1959.
HMS Stevenstone technical sheet
Creator/User: Great-Britain
Denomination: L 16 – H.M.S. Stevenstone
Class: Hunt Type III-class escort destroyer
Crew: 168 sailors
Armament (1944): 4x 120 mm guns, 2x 40 mm anti-aircraft guns, 8x 20 mm anti-aicraft guns, 8x 533 mm torpedo tubes, 110 anti-submarine grenades
Displacement: 1,458 tons
Speed: 27 knots
Length : 85,3 m
Beam: 10,16 m
Draught : 3,51 m