HMS Undaunted – R53
Index of Allied warships during Operation Neptune
History, technical sheet and photo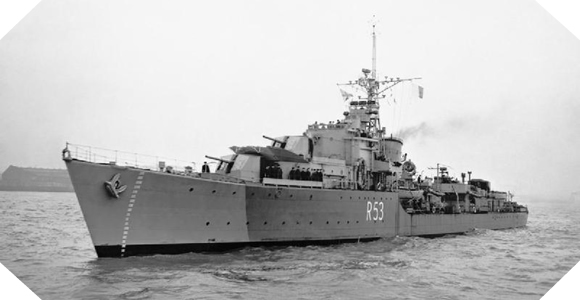 HMS Undaunted history
This U-class destroyer was launched on July 19, 1943 and entered active service as of March 3, 1944. Named HMS Undaunted, its first action was to escort the British armada to sink the Tirpitz along the coasts of Norway.
In May 1944, as part of the preparation for Operation Overlord, it joined the Bombarding Force K, which was itself subordinated to Task Force G. HMS Undaunted escorted convoys across the English Channel on the night of 5 June 6, 1944 heading for Gold Beach. On D-Day, it participated in the fire support of the English troops.
On June 7, the destroyer embarked General Eisenhower, Admiral Ramsay, and part of Overlord's staff to Portsmouth. It patrolled in the bay of the Seine and across the English Channel while occasionally pursuing its mission of supporting fire to the benefit of land forces.
Deployed in the Mediterranean Sea, it carried out several escorts of convoys in particular for the benefit of Malta and participated in fire support missions off Italy.
Engaged in the Pacific under American command (where it temporarily received the marking D25 in order to simplify the identification between warships), it finished the war and was then renovated for six weeks in Australia. On March 19, 1946, HMS Undaunted returned to Plymouth, England.
Transformed into an anti-submarine frigate type 15 in 1953, it participated in numerous technical and tactical experiments. Placed as a reserve in 1974, it was sunk in the Atlantic Ocean by an Exocet missile fired as part of an exercise by HMS Norfolk in 1978.
HMS Undaunted technical sheet
Creator/User: Great-Britain
Denomination: R 53 – H.M.S. Undaunted
Class: U-class destroyer
Crew: 180-225 sailors
Armament (1944): 4x 120 mm guns, 2x 40 mm anti-aircraft guns, 6x 20 mm anti-aircraft guns, 8x 533 mm torpedo tubes
Displacement: 1,710 tons
Speed: 37 knots
Length: 111 m
Beam: 10,87 m
Draught: 3 m