HMS Urania – R05
Index of Allied warships during Operation Neptune
History, technical sheet and photo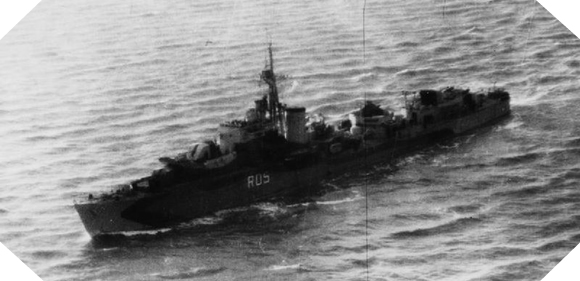 HMS Urania history
This U-class destroyer was launched on 19 May 1943 and entered active service on 18 January 1944. Named HMS Urania, it was deployed in the 25th fleet of destroyers in the Mediterranean Sea and carried out escort and patrol missions until April 1944.
In May 1944, as part of the preparation for Operation Overlord, it joined the Bombarding Force K, itself subordinated to Task Force G. It participated in Exercise Fabius on May 3rd, the general rehearsal of the amphibious operations in Normandy. The Urania escorts the G9 convoy across the English Channel on the night of 5-6 June 1944 to Gold Beach. On D-Day, it participated in the fire support of the English troops and patrolled in the sector until August.
Renovated in Southampton in October, it is again attached to the 25th fleet of destroyers and in November it went to the Indian Ocean. From February 1945, HMS Urania was attached to the US Navy and served in the Pacific in Task Force 57 and Task Force 58. On 12 August it left the area of ​​operations and was placed under the command of the Royal Navy.
It was in 1946 that the destroyer went back to the English Channel. Transformed in April 1953 into an anti-submarine frigate type 15, HMS Urania served in the Mediterranean Sea where it participated in the Operation Musketeer in Suez in 1956. Renovated several times, it is definitely placed in reserve in 1967 and sold to be scrapped on 2 February 1971.
HMS Urania technical sheet
Creator/User: Great-Britain
Denomination: R 05 – H.M.S. Urania
Class: U-class destroyer
Crew: 180-225 sailors
Armament (1944): 4x 120 mm guns, 2x 40 mm anti-aircraft guns, 6x 20 mm anti-aircraft guns, 8x 533 mm torpedo tubes
Displacement: 1,710 tons
Speed: 37 knots
Length: 111 m
Beam: 10,87 m
Draught: 3 m