HMS Warspite
Index of Allied warships during Operation Neptune
History, technical sheet and photo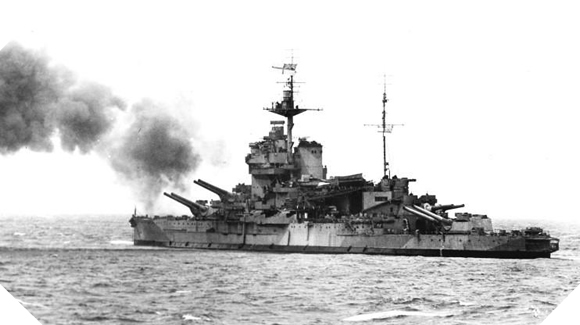 H.M.S. Warspite history
The battleship 03 H.M.S. Warspite was launched on November 26, 1913, and entered service on March 8, 1915. In 1916 it was engaged at the battle of Jutland in the 5th Fighter Wing, during which it received fifteen shots at the goal. Killed fourteen personnel on board and made sixteen injured: it was so damaged that his crew temporarily lost control. Repaired throughout the First World War after various additional incidents, it was engaged in the Atlantic and the Mediterranean during the Interwar period.
Renovated from 1934 to 1937, the Warspite became the flagship of the British fleet in the Mediterranean. When the Second World War broke out, it was deployed in April 1940 as part of the Norwegian campaign and took part in numerous coastal batteries as well as German warships. Engaged in the Mediterranean Sea, it participated in the Battle of Calabria during which it carried out one of the most important long-distance shots in history by touching the Italian Ciulio Cesare more than 23 kilometers away.
On March 27, 1941, it took part in the battle of Cape Matapan and engaged several Italian buildings which were severely hit and destroyed. The Warspite was damaged during the Battle of Crete during a German air attack. It was repaired in the United States and later deployed to the Indian Ocean before returning to the Mediterranean in June 1943 in order to participate in the H force in Operation Husky in Sicily and Operation Avalanche Before Salerno. It was hit three times by a German plane and accused of the loss of nine killed and fourteen wounded. It was towed to Gibraltar before finalizing the repairs to Rosyth in Great Britain in March 1944.
During Operation Neptune, it anchored off Sword Beach and on June 6, 1944, it bombed the Villerville and Mont Canisy batteries, consuming 300 375 mm shells in forty-eight hours. In the aftermath of the Battle of Normandy, HMS Warspite supported allied land forces from 9 to 11 June, operating for the benefit of the Americans before cruising off Gold Beach to support the British. As it made its way to Rosyth in order to change its guns, it hit a magnetic mine and after short repairs it resumed service off Normandy.
In August, it patrolled along the Channel and bombarded the cities of Brest, Le Havre and Walcheren.
On January 1, 1945, after good and loyal services, HMS Warspite was placed in reserve and then definitively retired from service. A storm in April 1947 sank it in Mount Bay and, despite multiple efforts to refloat it, its wreck remained there until 1950. It was finally demolished the same year.
H.M.S. Warspite technical sheet
Creator/User: Britain
Denomination: 03 – H.M.S. Warspite
Class: Queen Elizabeth-class battleship
Crew: 1,220 sailors
Armament (1944): 8x 381 mm guns, 10x 152 mm guns, 4x 102 mm guns, 32x 40 mm anti-aircraft guns, 16x 20 mm guns, 16x 12,7 mm machine guns, 4x 533 mm torpedo tubes
Displacement: 33,410 tons
Speed: 23 knots
Length: 194,89 m
Beaum: 27,58 m
Draught: 9,4 m