Landing Craft Tank – Rocket (LCT-R)
History, technical sheet and photo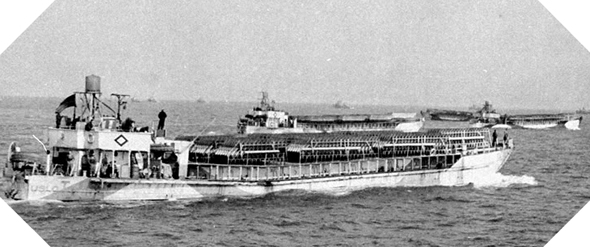 Landing Craft Tank – Rocket – LCT (R) history

The Landing Craft Tank (LCT-R) is developed from the base structure of Landing Craft Tank Mk 3 (LCT) on which up to 1,044 RP-3 rockets are placed. Their aim is to saturate the landing beaches by fire, just before the arrival of infantry and armored vehicles.
Regarding the technical modifications made by the LCT (R), the disembarkation ramp is condemned while a second bridge is added to accommodate the rocket baskets. The lower deck (where the tanks are parked on a conventional LCT) allows up to 5,000 additional rockets to be stopped. The firing is done by 24 successive bursts of 39 or 42 rockets (depending on the total number) which can reach 1,000 meters range.
On June 6, 1944, the Landing Craft Tank – Rocket was used by both British and American naval forces. Most of them are equipped with a radar system type 970.
Landing Craft Tank – Rocket – LCT (R) specification

Creator: Britain
Denomination: LCT(R)
Propulsion: 2 Paxman Ricardo diesel engines
Transport capacity: 1,044 RP-3 rockets
Maximum speed: 9 knots
Length: 58,52 m
Width: 9,45 m