USS Doyle
Index of Allied warships during Operation Neptune
History, technical sheet and photo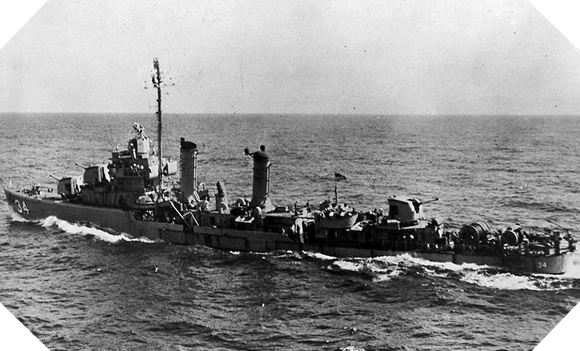 USS Doyle history
The Doyle was launched on 17 March 1942 and entered service on 27 January 1943. Its first missions took place in the Mediterranean Sea and in the Atlantic Ocean, where it carried out convoy escorts and anti-submarine operations.
On April 18, 1944, it left the United States and made its way to Plymouth to participate in Operation Neptune. On June 5, it sailed to the Normandy coast within the 31st Minesweeper Squadron and opened the way for the Allied Armada. On D-Day, it supported the landing near Omaha Beach (particularly against the German Wn 60 strongpoint, but also in front of Port-en-Bessin) by fire, as close as possible to the shore. He helped ships in difficulty , Notably LCI 93 and 487.
| | |
| --- | --- |
| | Painting of Dwight C. Shepler representing USS Emmons and USS Doyle in the background, June 6, 1944 in front of Port-en-Bessin. |
During the Battle of Normandy, it patrolled in the English Channel to secure the Allied fleet until 15 July before joining the Mediterranean Sea in order to participate in the landing of Provence, south of France. It carried out several escort missions in the area in 1945 before being transformed into a rapid minesweeper in the United States. In August, it left its home port to join the Pacific, where it served until the end of the Second World War.
Subsequently, the USS Doyle participated in the Korean War and was engaged in the Mediterranean Sea until May 1954: placed in reserve, it was definitively retired from service on May 19, 1955. It was finally scrapped in 1972.
USS Doyle technical sheet
Creator/User: United States of America
Denomination: DD 494 – U.S.S. Doyle
Class: Gleaves-class destroyer
Crew: 276 sailors
Armament (1944): 5x 127 mm guns, 6x 20 mm Oerlikon guns, 6x 12,7 mm Browning machine guns, 10x 533 mm torpedo tubes
Displacement: 1,630 tons
Speed: 37,4 knots
Length: 106,15 m
Beam: 11 m
Draught : 3,61 m