USS Jeffers
Index of Allied warships during Operation Neptune
History, technical sheet and photo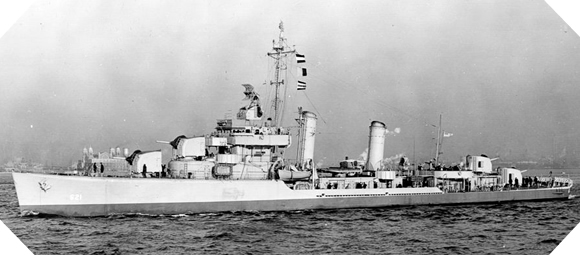 USS Jeffers history
The USS Jeffers was launched on 26 August 1942 and entered service on 5 November of the same year. After a series of training at sea, it escorted convoys in the Atlantic and then participated in Operation Husky off Sicily in July 1943, in Task Force 65.
After some repairs in the United States, it escorted new convoys across the Atlantic and then joined Great Britain in order to participate in Operation Neptune off Normandy. As part of the U-shaped naval force Utah Beach, it participated in the bombing of German positions on the coast, escorted the tallest warships and helped ships in difficulty until 29 June before crossing the English Channel many times to escort supply convoys to Normandy. It left the area on 16 July and then joined the Mediterranean Sea.
After its participation in the landing in Provence in August, south of France, it was transformed in the United States into a minesweeper and then was deployed in the Pacific at the beginning of 1945. It was engaged during the Battle of Okinawa in March and was attacked by Japanese suicide bomber Ohka during the April 6th raid: survivor of the air attack, it rescued the crew of the USS Mannert L. Abele, sunk by the Japanese. Present in the bay of Tokyo on 2 September during the ceremonies of the armistice, it returned to the United States in December.
After the war, it carried out a series of exercises along the eastern coast of the United States as well as in the Mediterranean Sea, notably within the 6th Squadron. Retired from service on May 23, 1955, it was finally sold on May 25, 1973 to be scrapped.
USS Jeffers technical sheet
Creator/User: United States of America
Denomination: DD 621 – U.S.S. Jeffers
Class: Gleaves-class destroyer
Crew: 276 sailors
Armament (1944): 5x 127 mm guns, 6x 20 mm Oerlikon guns, 6x 12,7 mm Browning machine guns, 10x 533 mm torpedo tubes
Displacement: 1,630 tons
Speed: 37,4 knots
Length: 106,15 m
Beam: 11 m
Draught : 3,61 m