USS Thompson
Index of Allied warships during Operation Neptune
History, technical sheet and photo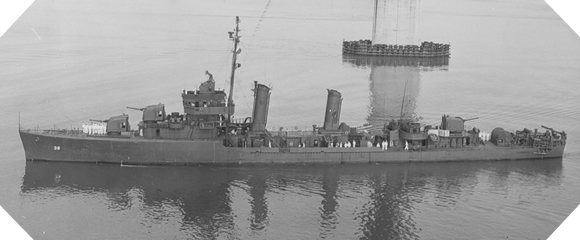 USS Thompson history
The USS Thompson was launched on July 15, 1942 and entered service on July 10, 1943. After a series of offshore training, it conducted escorts of convoys in the Atlantic to the benefit of large warships such as the USS Arkansas, USS Texas and USS New Jersey.
On April 28, 1944, it arrived in Plymouth to participate in Operation Neptune. Throughout the month of May, the Thompson conducted several shooting practices. It then joined Task Group 124.7 and was tasked to escort the O-1 convoy to Omaha Beach on the night of June 5-6. On D-Day at dawn, it participated in the bombing of German installations in the Pointe de la Percée area, experiencing great difficulty in locating enemy positions due to smoke and bad weather conditions. However, it observed and destroyed the antennas of the Würzburg radar at the top of the cliffs as well as several German strongpoints in the vicinity.
On June 7, it provided fire support for the US Rangers, isolated at the summit of Pointe du Hoc before having to return to Great Britain to be refueled. Returning off the coast of Normandy the following day, it stopped an attack of German E-Boote (torpedo boats) on 9 June by opening a heavy fire that dissuaded the attackers and induced them to turn around. Similarly, on 11 June, a new attack was stopped.
On 12 June it embarked on board generals Eisenhower, Marshall and Arnold as well as Admiral King and transported them across the English Channel to Omaha Beach and then escorted them to England.
The USS Thompson left the English Channel on 24 July and made its way to the Mediterranean Sea in order to take part in the landing in Provence, south of France. After Operation Dragoon, it made its way to the United States on 23 September 1944 and began new patrols along the east coast, again escorting convoys across the Atlantic. On May 30, 1945, the destroyer was transformed into a minesweeper and was operational again on June 5.
As it headed for the Pacific to continue the fighting, the Japanese signed the armistice. Beginning in October 1945, it carried out numerous deminations in the Yellow Sea and operated in the region and in Chinese territorial waters until 1949. The USS Thompson participated in the Korean War, supporting and supplying the Allied troops, demining the maritime routes: it was touched by a Chinese coastal battery on August 20, 1952 which made four dead and nine wounded in its ranks.
After Korea, destroyer Thompson played the movie stars in the movie "The Caine Mutiny" shot in 1953. Retired from active duty on December 1, 1953, it is sold on August 7, 1972 to be scrapped.
USS Thompson technical sheet
Creator/User: United States of America
Denomination: DD 627 – U.S.S. Thompson
Class: Gleaves-class destroyer
Crew: 276 sailors
Armament (1944): 4x 127 mm guns, 4x 40 mm Bofors guns, 7x 20 mm Oerlikon guns, 5x 533 mm torpedo tubes
Displacement: 1,630 tons
Speed: 37,4 knots
Length: 106,15 m
Beam: 11 m
Draught : 3,61 m