USS Tuscaloosa
Index of Allied warships during Operation Neptune
History, technical sheet and photo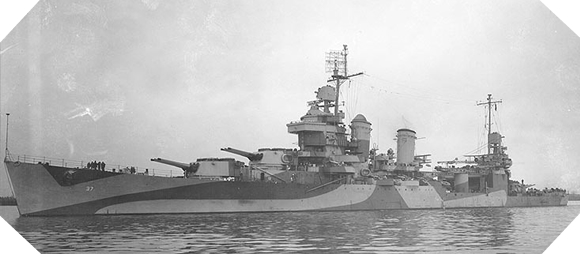 USS Tuscaloosa history

USS Tuscaloosa was launched on 15 November 1933 and entered service on 17 August 1934. It made its first movements along the coasts of the American continent, from north to south, making a gap towards the Hawaiian islands. In August 1939, US President Franklin D. Roosevelt traveled to Campobello Island (he returned several times to the Tuscaloosa during the war). It then carried out several patrols in the Caribbean and the Gulf of Mexico before escorting convoys to the Atlantic.
In May 1941 it took part in the hunting of the German Bismarck warship and in November 1942 it was deployed in the Mediterranean in order to participate in the Torch operation off Morocco, engaging duels with coastal batteries and warships under the command of Vichy. The following year, the Tuscaloosa was back along the eastern coast of the United States and patrolled again in the Atlantic and the North Sea.
In the spring of 1944, it joined the allied naval forces in the Channel and served in Task Force 125: on June 6, at 5.50 am, it bombarded the German batteries threatening Utah Beach and the allied armada (targeting Fort Tatihou and the Mont Coquerel battery), correcting its shots thanks to aerial observers. It witnessed the destruction of the USS Corry on D-Day and bombarded the Crisbecq battery. Early in the morning of June 8, it  organized the relief efforts for USS Glennon, hit by a mine, and then for USS Rich. Its guns supported the advance of the American ground forces until June 21 before bombing the batteries of Cherbourg as of June 25.
In August 1944, the USS Tuscaloosa took part in the landing of Provence and remained in the Mediterranean for nearly a month before returning to the United States. In January 1945, it joined the 3rd Squadron and was deployed in the Pacific, participating in the bombing of Iwo Jima and Okinawa.
After the Second World War it patrolled in the China Sea and the Pacific and was placed in reserve in Philadelphia on 13 February 1946. It was sold for demolition on 25 June 1959.
USS Tuscaloosa technical sheet

Creator/User: United States
Denomination: CA 37 – U.S.S. Tuscaloosa
Class: New Orleans-class heavy cruiser
Crew: 708 sailors
Armament (1944): 9x 200 mm guns, 8x 130 mm guns, 16x 40 mm guns, 19x 20 mm guns
Displacement: 9,975 tons
Speed: 32,7 knots
Length: 179,27 m
Beam: 18,82 m
Draught: 7,16 m