Two million visitors expected at Omaha Beach in 2019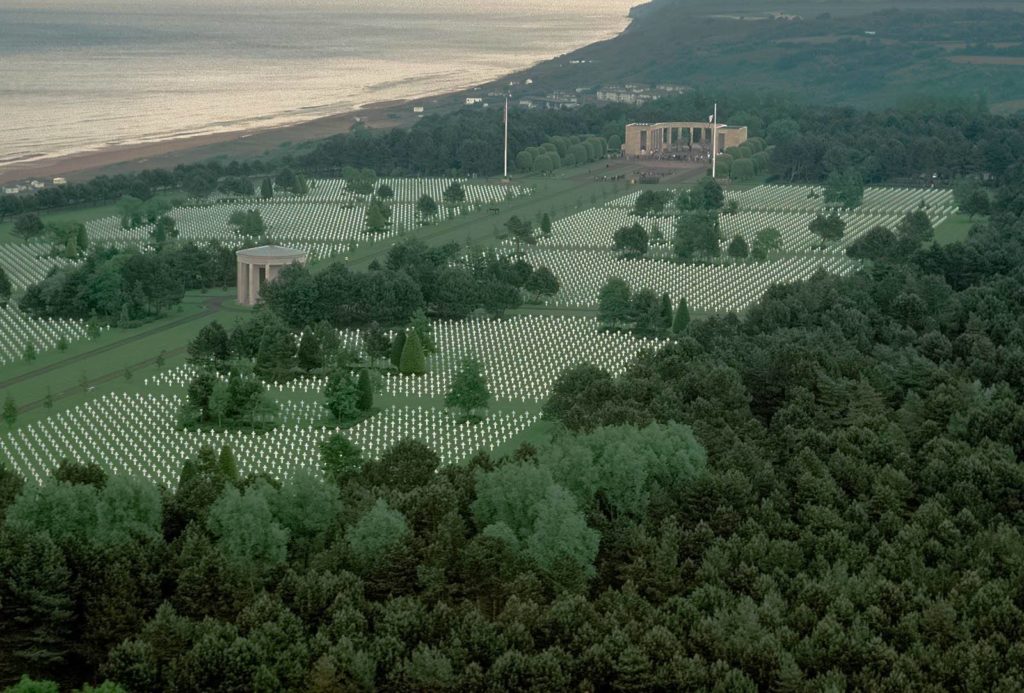 9384 military and 4 American civilians rest in this cemetery, located near the town of Colleville-sur-Mer, Normandy, and overlooking Omaha Beach.
Photo: ABMC
May 3rd, 2019: the Colleville-sur-Mer American Cemetery anticipates a record influx
Source: AFP
The American cemetery overlooking Omaha Beach in Colleville-sur-Mer (Normandy) expects a record influx in 2019, D-Day 75th anniversary, with more than two million visitors considered, it was learned Thursday from the American Battle Monuments Commission (ABMC), a US government agency that manages the site.
"In view of the increase in attendance already recorded in this year of 75th anniversary, we can imagine that there will be more than two million visitors," said AFP Scott Desjardins, administrator of the cemetery at 9,300 white crosses, the most frequented memory site in Normandy.
The ABMC has put online a registration process to access the Franco-American ceremony (available by clicking here) which will include the participation of US President Donald Trump. The other binational ceremony, to which the French president is expected to participate, will be devoted to the inauguration of the Franco-British monument in Ver-sur-Mer.
The cemetery that had attracted 1.8 million people in 2014, at the D-Day 70th anniversary, sees its attendance increase by 10% almost every year, excluding anniversary years, said Mr. Desjardins. In 2018, 1.4 million people went there.
The ABMC has just invested more than $ 5 million in the cemetery, including its museum, car parks and drainage.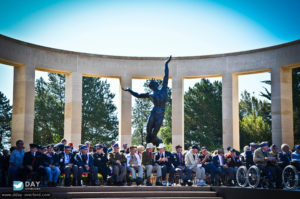 Veterans at Colleville-sur-Mer American Cemetery on June 6, 2014 on the occasion of the 70th anniversary of D-Day.
Photo: D-Day Overlord
The ABMC also expects an increase in attendance at Pointe du Hoc in Cricqueville-en-Bessin, a few kilometers from the cemetery, with "probably nearly 800,000 visitors". Attendance to this site, which is steadily increasing, should also break a new record, explains Mr. Desjardins. Co-managed by ABMC, the French State and local authorities, Pointe du Hoc attracted 550,000 people in 2018, compared to 386,000 in 2014.
"We had to close the Pointe du Hoc three times last year because the car parks were full," said the US administrator. This site, still marked by the bombs dropped by the Allies, is a place of memory particularly dear to the Americans.
The ABMC must present to its French partners in a year and a half a $ 20 million investment project on this site, subject however to a change of status of the land under co-management, according to Mr. Desjardins (the subject has been discussed here). The project aims to double the parking capacity, "secure" the site by consolidating the eroding cliff and to improve the historical explanations given to visitors.
In 2010 the United States had invested 4.8 million euros to comfort, including 800 tons of cement, part of the cliff, above which the main blockhouse threatened to fall into the water. The blockhouse is expected to last several decades, according to the ABMC, which would like today to consolidate the rest of the site.
DDay-Overlord.com – Reproduction subject to authorization of the author –
Contact