Bunker for sale in Ver-sur-Mer – Normandy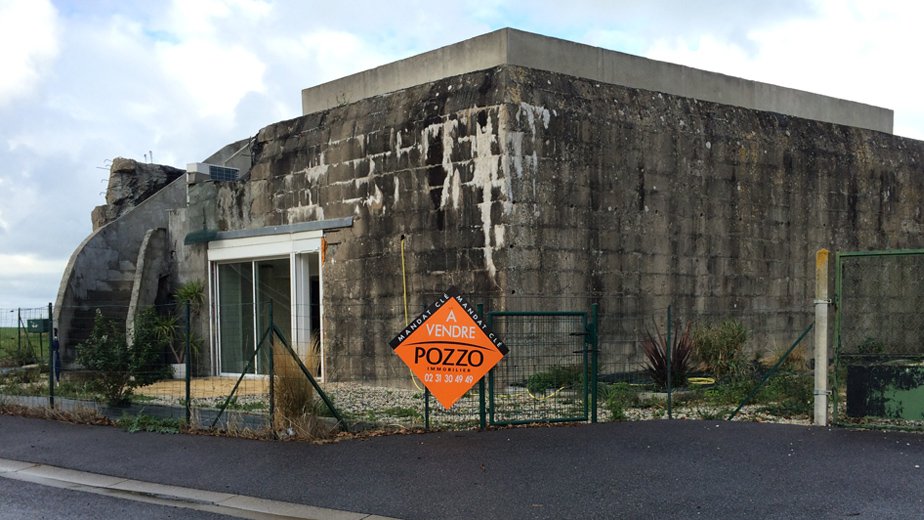 The Ver-sur-Mer bunker for sale. Photo credit: Pozzo Immobilier
November 1st, 2016: Bunker for sale in Ver-sur-Mer, Normandy
Information source: Le Point
Author: Jean-Pierre Beuve
Damaged during the Normandy Landing, patinated by the years, this blockhouse is no longer like the others: it has been transformed into dwelling house some twenty years ago. And its owner put on sale this very special housing two months ago. Price: 214 000 euros. "The rarity of this blockhouse is that it is habitable. It is undoubtedly the only one on the French market today, "Jeremy Rousel, a real estate agent at Pozzo, in charge of sales, told Ouest-France newspaper.
Unique living room

Given the design of the building and its 100 square meters of walls, the house consists of a single living room of 75 square meters with only two openings: two bay windows equipped with roller shutters. According to France 3 Basse-Normandie, we visit the house in 24 seconds chrono.
But all the comfort is present: kitchen done up and equipped, room of water and heating by heat pump (energy class: D). But no separate room. Despite or due to the thickness of the walls, some waterproofing work remains to be expected.