A German mine in the nets of a trawler off Grandcamp Maisy, Normandy, France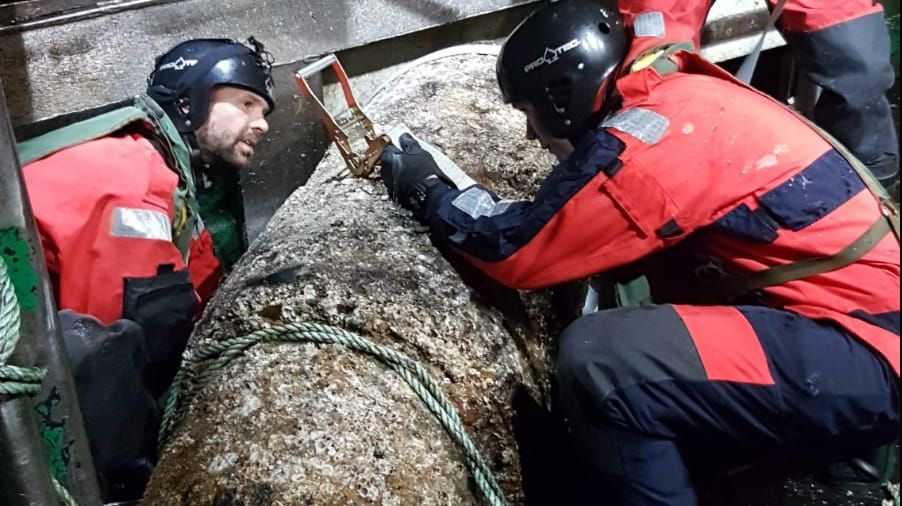 The French mine clearance divers group in the Channel ensure the proper neutralization of the mine before its bailout
Photo :Préfecture de la Manche
August 18, 2018: A German mine in the nets of a trawler off Grandcamp-Maisy
Article author: Aurélie Misery
Information source: France 3
"It was around 02:30 this Friday morning that the Maritime Operations Center of the Maritime Prefecture of the English Channel and the North Sea was alerted by the CROSS of Jobourg that the trawler "Le Retour", then in a fishing zone 2 nautical miles (4 km) off Grandcamp-Maisy (14), had trawled a German mine dating from the Second World War.
The French mine clearance divers group in the Channel (GPD) immediately stepped in to safely release the historic gear.
The ammunition, a Bomb Minum 1000, contains an explosive charge of about 860 kg. According to the statement from the Préfecture Maritime, "although dating from the Second World War, it still represents a danger: a simple movement, especially with the trawler, may be enough to strike his leader and ignite the military load it contains."
At 04h55 the Caïman Navy helicopter stationed in Maupertus in the Manche department, has embarked from the military base in Cherbourg five staff of the GPD Manche who was moored at 5:30 aboard the trawler. The trawler crew was evacuated and placed at a safe distance by a boat from the Sea Rescue station at Grandcamp-Maisy. The ammunition, meanwhile, was relaunched for a countermailing operation next week."
 D-Day Overlord comments
This one mine was a Luftmine B (LMB)  model used by the Luftwaffe (German Air Force) and known to the British as the "British Mine Disposal Service" (or "G-mine").
Equipped with a bakelite empennage, this one ton mine was dropped by air and burst on impact. With a total length of 270 cm, it measures approximately 70 cm in diameter.
The Luftwaffe had organized a night raid off Grandcamp-Maisy, a few weeks after the landing of June 6, 1944. The objective was to dump a ton of underwater mines at sea to strike the Allied armada. Some of these ammunition, having been dropped too early by the German bombers, had crashed against the remains of the Pointe du Hoc in Cricqueville-en-Bessin, causing several casemates of the battery to collapse. In these bunkers were then German prisoners, responsible for clearing the area… The Luftmine B found August 17 at sea could be one of the mines dropped during this air raid.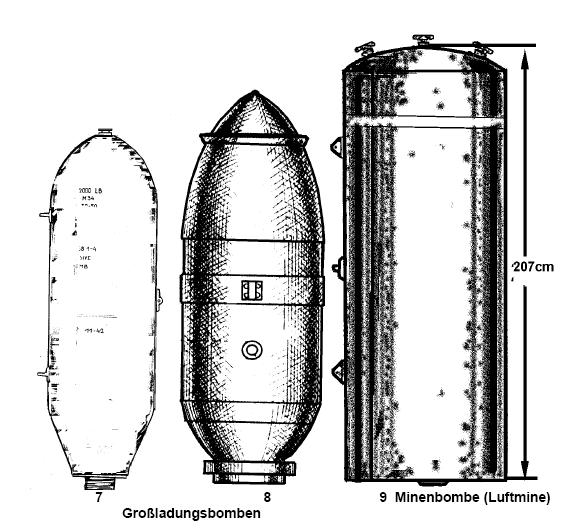 German mining models. The one that has been found corresponds to the model on the right, Luftmine B, weighing 1000 kg and called "Monika".
Photo: DR
DDay-Overlord.com – Partial or total reproduction prohibited –
Contact