Exhibition « Those Men »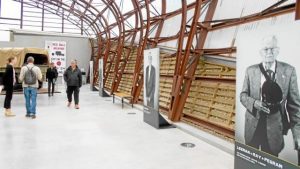 June 16th, 2016: exhibition «Those Men » at the Utah Beach Museum
Information source: Ouest-France
Since Wednesday, the Utah Beach Museum offers an original and moving exhibition with the life-size portrait of eight D-Day veterans. These are those of the sailor Vernon (called Moon) Miller; Paratroopers of the 101st Airborne, Guy Whidden, Leeman Ray Pegrain and Jim Pee Wee Martin; Georges Shenkle of the 82nd Airborne; 4th ID soldiers, Jack Port and John Roman; Birney Harvey of the 42nd Division.
These veterans were taken in photos last year, during the ceremonies of June 6, by Adeline Keil, professional photographer. The eight photographs were very pleasing to the museum's managers who have drawn portraits of human size.
Very beautiful portraits that were placed in the hangar of the B26 bomber and allow "to put a face on the men of D-Day", underlines Marion Coquoin, communication officer.