A Frenchman and his American half-brother linked by battle of Normandy
September 24, 2018: A Frenchman and his American half-brother linked by battle of Normandy in 1944
Information source: AFP

The DNA revealed to them that they had the same father: two half-brothers, one French, the other American, have an appointment today at Omaha Beach where their common father, American soldier, landed in June 1944.
DNA tests revealed to a Frenchman and an American that they had the same father, Bill Henderson, a GI mobilized in Normandy during the Second World War. André Gantois, 72, a resident of Ludres, in eastern France, and Allen Henderson, 65, from Greenville, South Carolina, will meet today in Colleville-sur-Mer, Calvados, where their father landed among the 132,700 Allies mobilized the "D-Day".
"Child of the war" born of a French mother, Irene, André Gantois is 15 years old when he learns at his death his love affair with an American soldier. He was born in 1946, orphaned by a father whose name he does not know. In the United States, the GI has made a new life and is starting a family. His first attempt at 20 years at the US Embassy in Paris will be futile. "I was told that what I asked was like looking for a pin in a haystack." Until her daughter-in-law directs her to an American institute specializing in DNA research. In July, he takes a sample in the mouth he sends to the United States. He does not know that three weeks before him, this company was commissioned by the Henderson family to carry out genealogical research based on DNA. The results fall at the beginning of August: "the tests crossed and the agency determined that I had a brother in the United States and that I was of American family", says André Gantois. Allen Henderson was also surprised: "Oh I have a brother, I have a brother!", He told local media 7News. "(André) had no idea that we were here and of course I was not looking for him because I had no idea he was there," he says.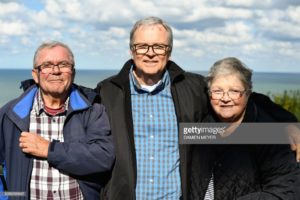 André Gantois (left) and Allen Henderson (center) half-brothers linked by battle of Normandy, at the Colleville-sur-Mer American Military Cemetery on September 24th, 2018. Photo : Getty Images
DDay-Overlord.com – Reproduction subject to authorization of the author –
Contact