Passing of Michel Marie, nicknamed the Poulbot of Overlord and symbol of the Liberation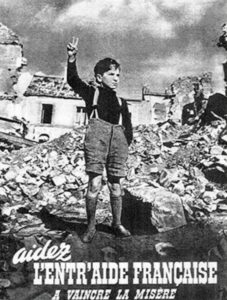 Michel Marie, 6 years old, in the ruins of Villers-Bocage. Nicknamed the "Poulbot of Overlord", his photo has travelled around the world.
Photo: DR.
September 1, 2018: passing of Michel Marie, iconographic symbol of the 1944 Liberation
Michel Marie was 6 years old on June 6, 1944. This young Norman, living in Villers-Bocage, had witnessed the difficult Normandy campaign marking the beginning of the liberation of France. His village had been severely hit by the Allied bombing, killing several residents and burning the houses to the ground (June 30, 1944 at 8:30 pm, the Royal Air Force dropped 1,100 tons of bombs using 266 bombers). Shortly after the departure of the Germans with the launch of Operation Bluecoat on July 30, 1944, the British 1st Battalion Dorsetshire Regiment liberates Villers-Bocage: a military photographer, perched on a British tank, then takes a picture of the young Michel Marie who stands in the middle of the rubble. Come to meet the liberators, he makes the sign V of the victory with his hand. The scene is immortalized and meaningful: despite the destruction, the hardships endured and the innocence of youth facing war, the future is full of hope. The clouds, which we see in the background in the photo, give way to the blue sky.
This image is immediately published in the press and goes around the world. Nicknamed the "Poulbot of Overlord" (the term Poulbot referring to the poor children of Montmartre (near Paris), painted by Francisque Poulbot), Michel Marie sees his image reproduced on a poster of the French aid association, created for the benefit of the victims of war. On the occasion of the fiftieth anniversary of the Normandy landings in 1994, this photo is used by the Calvados General Council, which makes it its official poster.
Died at the age of 80 on August 29, 2018, he disappeared anonymously. His hopeful gesture, however, will remain for posterity.
The religious ceremony is celebrated on Monday, September 3rd 2018 at 10:00, in the Saint-Martin church at Villers-Bocage.
DDay-Overlord.com – Reproduction subject to authorization of the author –
Contact