Death of D-Day veteran Ralph K. Manley – 101st Airborne Division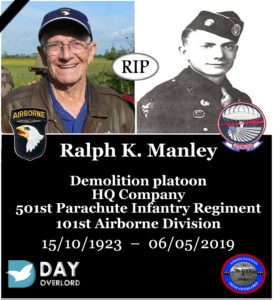 Death of American veteran Ralph K. Manley 
After the United States entered the war in 1941, it was with his twin brother, Roland, that Ralph enlisted in airborne troops. Roland was called to serve with the 82nd Airborne Division's 401st Parachute Infantry Regiment while Ralph joined the 501st Parachute Infantry Regiment of the 101st Airborne Division. Unfortunately, Roland was killed July 13, 1943 by a fratricidal fire during the engagement of his regiment in Sicily.
Ralph participated in Operation Overlord and on June 6, 1944, he was parachuted north of Carentan with his unit. Despite multiple injuries, he remained in Europe to participate in Operation Market Garden in Holland in September 1944, then to the fighting in the Ardennes and Germany.
After the Second World War, Ralph K. Manley had a career in business in Springfield, Missouri. In 2006, he published his memoirs in his book The Sky is the Limit at Birch Creek Publishing. He regularly participated in D-Day commemorations and jumped in tandem parachute at Angoville-au-Plain in 2009.
Ralph passed away on May 6, 2019.

Back to the 2019 wall of remembrance
DDay-Overlord.com – Reproduction subject to authorization of the author –
Contact