Death of veteran Barran Eugene Tucker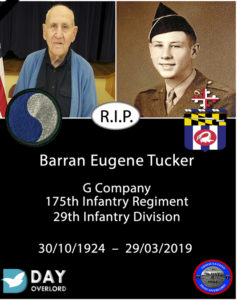 RIP Barran Eugene Tucker | 1924-2019
G Company
175th Infantry Regiment
29th (US) Infantry Division
Barran Eugene Tucker was born October 30, 1924 in Spiro, Oklahoma. He joined the army during his last year of high school at Spiro. He served with the 29th Infantry Division and was posted to G Company of the 175th Infantry Regiment.
On June 7, 1944, he landed on the beach of Omaha with the reinforcements of his division, and then headed towards Isigny-sur-Mer to secure the junction zone between US forces from Omaha, and those from Utah Beach. Arrested on June 13, 1944 by the Germans of the 17th SS Panzer Division during the Battle of Montmartin-en-Graignes, he was sent to prisoner of war camps and escaped twice (first to Mooseport). then to Zeitz, Germany, where he weighed only 34 kg).
After the war, Barran Eugene Tucker returned to Spiro where he graduated from high school and presented at the Oklahoma Military Academy in Claremore. He married Wanda Jean Grant on January 21, 1955. After the Vietnam War, he worked at the McAlester Post Office in the 1970s before retiring in the 1980s. During this time, he served on the reserve. of the army and retired in 1977 with the rank of lieutenant-colonel. He served a total of 34 years. He graduated from the Fort Benning Cavalry School, Georgia, as well as from the US Army Command and Staff College.
Barran Eugene Tucker died on March 29, 2019. He was one of the last remaining veterans of his company.

Back to the 2019 Wall of Remembrance
DDay-Overlord.com – Reproduction subject to authorization of the author –
Contact