ALG A-1 – Saint-Pierre-du-Mont
Battle of Normandy
This page presents the history of ALG (Advanced Landing Groud) A-1, used by the 9th United States Air Force during the Battle of Normandy.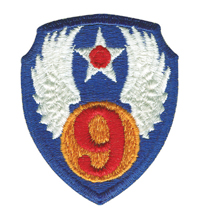 9th United States Air Force
Location: Saint-Pierre-du-Mont, Calvados (14)
Code: A-1
Coordinates: 49°23'28"N – 000°57'43"W
Construction: from 9 to 13 June 1944 by the 834th Engineer Aviation Battalion (EAB)
Operational period: from June 13 to September 5, 1944
Length: 1 524 m (5 000 feet)
Width: 36,57 m (150 pieds)
Azimuth: 91°
Airstrip: Square-Mesh Track (SMT) & PSP (Pierced Steel Plating)
Units:
– 366th Fighter Group (389th squadron – A6 -, 390th squadron – B2 -, 391st squadron – A8 -) using P-47 Thunderbolt.
– 370th Fighter Group (401st squadron) using P-38 Lightning.
ALG A-1 history:
ALG A-1 is built one kilometer east of the Pointe du Hoc battery. The furious fighting that has taken place in the area has delayed its installation which ends June 13, 1944.
The sappers set up initially a track of 1100 meters covered with SMT which is prolonged by PSP in order to reach a total length of 1524 meters. ALG A-1 becomes the main base of the 366th Fighter Group until August 25, 1944.
Remains:
– Memorial stele near the cliff at a place called Valmont, north of Englesqueville-la-Percée.
DDay-Overlord.com – Reproduction subject to authorization of the author –
Contact