ALG A-15 – Maupertus
Battle of Normandy
This page presents the history of ALG (Advanced Landing Groud) A-15, used by the 9th United States Air Force during the Battle of Normandy.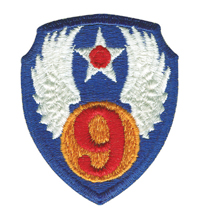 9th United States Air Force
Location: Maupertus, Manche (50)
Code: A-15
Coordinates: 49°38'49"N – 01°27'42"W
Construction: from June 26 to July 4, 1944 by the 850th Engineer Aviation Battalion (EAB) and the 877th Airborne Engineer Aviation Battalion (AEAB)
Operational period: from July 4 to December 30, 1944
Number of airstrips: 2
Airstrip 1: Pierced Steel Plank (PSP)
Length: 1 524 m (5 000 feet)
Width: 36,57 m (120 feet)
Azimuth: 174°
Airstrip 2: tar & Pierced Steel Plank (PSP)
Length: 1 828,80 m (6 000 feet)
Width: 36,57 m (120 feet)
Azimuth: 114°
Units:
– 67th Tactical Reconnaissance Group (107th Tactical Reconnaissance Squadron) using F-6 Mustang
– 363rd Fighter/Tactical Reconnaissance (TR) Group (380th Fighter Squadron/160th TR Squadron, 381st Fighter Squadron/161st TR Squadron, 382nd Fighter Squadron/162nd TR Squadron) using P-51 Mustang
– 387th Bombardment Group (556th Bombardment Squadron, 557th Bombardment Squadron, 558th Bombardment Squadron, 559th Bombardment Squadron) using B-26 Marauder
– 422nd Night Fighter Squadron using P-61 Black Widow
ALG A-15 history:
Originally, the Maupertus air base belongs to the French army which built a grass and concrete airstrip 1000 meters long. The Germans seize it during the occupation and fortify it against possible enemy air attacks. In 1941, they tarred the track and extended it to reach 1,700 meters in length.
During the Battle of Normandy, it was the 22nd Infantry Regiment of Colonel Hervey A. Tribolet (4th US Infantry Division) which seized the position after hard fighting on June 27, 1944.
In the wake of the seizing of the aerodrome, sappers of the 350th EAB were working to clear the position and the airstrip was reopened from June 28, then extended to reach 1850 meters. They reinforced it from July 9 by installing Pierced Steel Plank (PSP) and extended it again to finally reach 2000 meters in length. The 877th AEAB arrived to reinforce the 11 of July and installed a second paved track reaching 1828,80 meters (6000 feet) of length.
The ALG A-15 from Maupertus was used by Fighter Squadrons as well as Bombardment Groups because of the size of the tracks. It was in service until December 1944.
Remains:
– Commemorative stele at the entrance to the Maupertus aerodrome.
DDay-Overlord.com – Reproduction subject to authorization of the author –
Contact