Operation Rankin
Preliminary missions for the Operation Overlord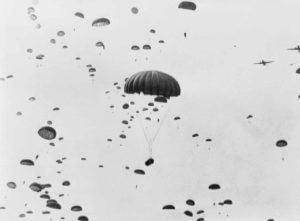 The purpose of Operation Rankin was to find a military solution to the possibility of a German surrender before the landing in Normandy. It did not have the opportunity to be realized.
Photo: US National Archives
In the spring of 1944, the German 3rd Reich seemed to collapse after a series of disastrous defeats on the eastern front, as in 1918. The 101st Airborne Division was ordered to prepare for the eventuality of an operation over Le Havre in preparation for the landing of the First US Army. The operation adopts the code name: Rankin.
Here is an extract from an American report that mentions this operation (Information source: "The Operation of the 101st Airborne Division, East of Ste-Mère-Eglise, 5-6 June 1944" – Advanced Officer Course – 1946-1947 – Infantry School – Fort Benning, Georgia, USA).
"Another operation, the details and existence of which were known only to a handful of officers, was studied to the level of the battalions and companies, and the plans were ready for execution. This operation was codenamed: Rankin.
It was planned in case of a German surrender before the invasion in Normandy, a possibility due either to a military disaster on the Russian front, to an internal collapse of Germany, or both.
As the 101st Airborne was the only airborne division available in England in February 1944, it was to play an essential role during Rankin. At the beginning of January 1944, the division headquarters was ordered to prepare a detailed plan for the capture of the French port of Le Havre and the surrounding airfields at Le Havre-Octeville, Saint-Vigor and Saint-Valery-en-Caux. During this airborne operation, all available allied air transport were to be used. Once Le Havre was secured, the 1st American army would land there and then deploy and begin the capture and occupation of the American zone planned in Europe held by Hitler. "
As Rankin's trigger conditions did not occur, the operation did not take place.