Preliminary missions for the Operation Overlord
As a prelude to the opening of a second front in western Europe, the Allies are preparing the ground and their overall strategy to increase their chances of success. The lessons learned and the consequences of these preliminary actions ensure the success of Operation Overlord.
This page presents all the operations preliminary to the landing of Normandy.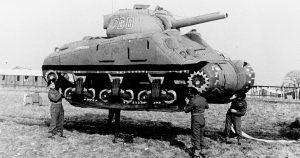 An inflatable tank representing a Sherman M4 tank and supposed to deceive the German air reconnaissance missions as part of Operation Fortitude. Photo: IWM

 Deception operations

Strategic preparations
Operation Postage Able.
Sussex Plan.

 Amphibious operations
Exercise Cantab – Rehearsal – May 1944.

 Air operations
DDay-Overlord.com – Reproduction subject to authorization of the author –
Contact