8.8 cm Pak 43 anti-tank gun

History, technical sheet and photo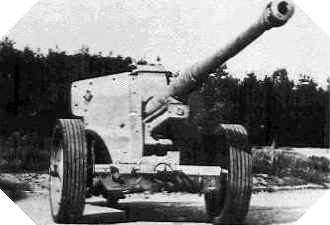 8.8 cm Pak 43 anti-tank gun history

If Germany was prohibited from building heavy cannons in 1919 following the Treaty of Versailles, Hitler's coming to power completely changed the situation. He immediately gave orders to build powerful anti-tank guns.
Germany, through the Krupp weapons factory, is developing an 88 mm anti-aircraft gun that is delivered as early as 1933: it is the famous Flak 18. High-performance and equipped (Up to twelve strokes per minute), the model is then designed in an anti-tank version: it becomes the formidable "88" which quickly turns out to be one of the best anti-tank guns of any kind. the Second World War.
One of the most challenging faults of the 88 mm gun lies in its transport. The Krupp factory then receives a request for an anti-tank gun of the same caliber but more easily transportable: a shield that rests on two steel wheels is then installed. It thus takes the designation of Pak 43. This sharpening allows the barrel to adopt a reduced line and to rotate 360 ​​degrees. Its mobility makes it a formidable weapon.
The mass is also one of the problems of the Flak 18 gun. Krupp decides to modify in its design the barrel of the barrel, allowing an important reduction of the weight of the machine. It was also necessary to modify the nature of the shells which represented a danger to the safety of the artillerymen and the good functioning of the barrel, which is more sensitive to corrosion.
The Pak 43 anti-tank gun, however, remained an excellent artillery gun, and therefore equipped the last German war tanks: the Elefant, Jagdpanther and the Tiger II.
8.8 cm Pak 43 anti-tank gun specification
Creator/User: Germany
Denomination: 8.8 cm Pak 43
Number produced: 2,098 (from 1943 to 1945)
Breech: semi-automatic vertical sliding block
Caliber: 8,8 cm
Maximum fire range: 15,300 m
Maximum rate of fire: 6-10 shells/min
Weight: 3,650 kg
Length (with trail) : 9,20 m
Width: 2,20 m
Height: 1,73 m
Traverse: 360°
Elevation: – 8° to + 40°