Panzerkampfwagen VI Königstiger – Royal Tiger
History, technical sheet and photo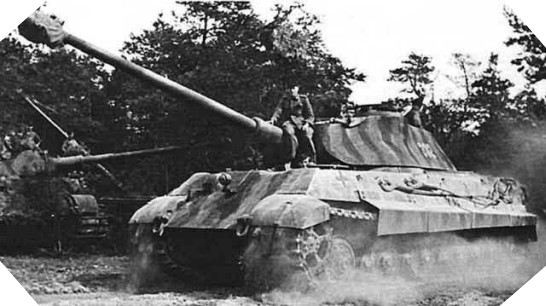 Panzer VI Königstiger – Royal Tiger history
The design study of the Panzerkampfwagen (PzKpfw) VI Königstiger (German Royal Tiger) begins in May 1941 and continues until 1943. Designed by the German company Henschel, this new tank is to replace the Tiger tank in the long term. The first units were delivered at the beginning of 1944 and the tank knew its fire baptism in May of the same year at the Battle of Minsk.
The tank "toyal tiger" is distinguished by its extraordinary mass (nearly 70 tons). Indeed, engineers seeking to improve the characteristics of the Tigre tank have increased the number of additions (the armor, in particular the frontal armor, is greatly reinforced), the options and the modernization of the equipment which have already proved themselves, leading to a considerable increase in its Mass.
As a result, the mobility and autonomy of the Tigre II tank is greatly diminished. To overcome these weak points, its armament is reinforced. Its 88 mm cannon can fire up to ten kilometers and pierces all types of shielding known until now.
During the Battle of Normandy, the Tiger II was the terror of the Allied troops. So much so that only the aviation and the navy of war can do it. Winner of all the duels, it was never destroyed by a frontal shot. Only the close and flank shots were able to silence him.
489 copies of the Royal Tiger tank were built during World War II. This model remains one of the best in this period.
Panzer VI Königstiger – Royal Tiger specification
Creator/User: Germany
Denomination: PzKpfw VI Königstiger – SdKfz 182
Length: 10,28 m
Width: 3,65 m
Height: 3,09 m
Weight: 69,800 kg
Maximum speed: 41 km/h
Operational range: 110 km
Main armament: one  8.8 cm KwK 43 L/71
Secondary armament: three MG 34 or three MG 42 machine guns
Engine: V-12 Maybach HL 230 P30 gasoline
Consumption: 487 liters per 100 kilometers
Crew: 5 (commander, gunner, loader, radio operator, driver)
Front armor: 150 mm
Fancs armor: 80 mm