BSA M20 motorcycle

History, technical sheet and photo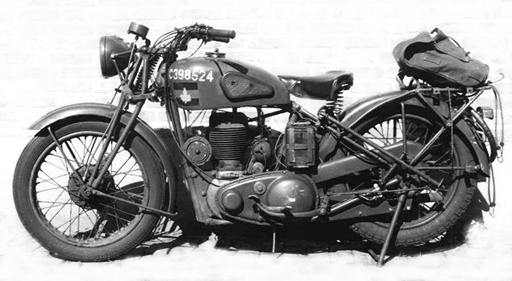 BSA M20 motorcycle history

After the First World War, British industries were tasked with developing a new, more manageable, motorcycle for the armed forces. It was a propitious time for the production of these machines and it was in 1940 that the company BSA (Birmingham Small Arms) was selected to equip part of the British motorcycle units with its model M20.
Originally considered unreliable, the single-cylinder M20 was modified until 1942 before being standardized. Very widespread, it is used on all fronts and especially during the Battle of Normandy by Anglo-Canadian forces. Some modifications allow this motorcycle to be used in different theaters of operations, both in the desert zone and in the Normandy bocage (with, for example, the introduction of the Vokes air filter).
Several models are being developed and thousands of gear is produced throughout the Second World War. With a very good handling and comfortable to fly, this motorcycle knows however difficult to be started when its engine is hot. 126,000 units were built.
BSA M20 motorcycle specification

Creator/User: Britain
Dénomination : BSA M20
Weight: 280 kg
Maximum speed: 95 km/km/h
Front suspension: girder
Rear suspension: rigid
Wheels: 3.25 x 19-inch front & rear
Brakes: 7-inch drums front and rear
Powerplant: 496cc single cylinder side valve 4 stroke
Transmission: 4-speed, multi-plate dry clutch