Harley-Davidson WLA
History, technical sheet and photo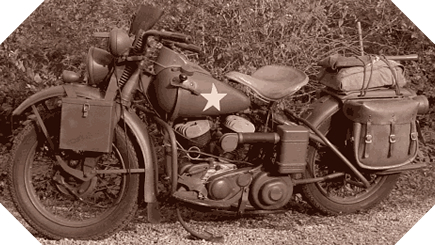 Harley-Davidson WLA motorcycle history

On December 7, 1941, the Japanese attacked the US military base at Pearl Harbor and the United States entered the war. The US Army immediately ordered Harley-Davidson to equip its liaison officers and military police with the motorcycle HD WLA, first called HD XE ("Experimental").
While initially the company also produces copies for civilian buyers, demand became so strong from 1943 on that Harley-Davidson produced almost only units for Allied military forces. The Americans, but also the Canadians (as WLC), the British and even the Soviets are equipped with this Harley-Davidson.
In 1945, at the end of the Second World War, nearly 60,000 copies of the Harley-Davidson WLA were built and production continued for a few years: sales exploded in the civilian market, while foreign armies bought the WLA motorcycles in surplus of the US Army.
Harley-Davidson WLA motorcycle specification

Creator/User: United-States of America
Denomination: HD WLA
Length: 2,23 m
Width: 0,90 m
Height: 1,04 m
Weight: 330 kg
Maximum speed: 95 km/h
Operational range: 350 km
Powerplant: Harley-Davidson WLA air-cooled 45 V2, 4-stroke, 739cc gasoline-fueled engine coupled with 3-speed gear box