HMS Virago – R75
Index of Allied warships during Operation Neptune
History, technical sheet and photo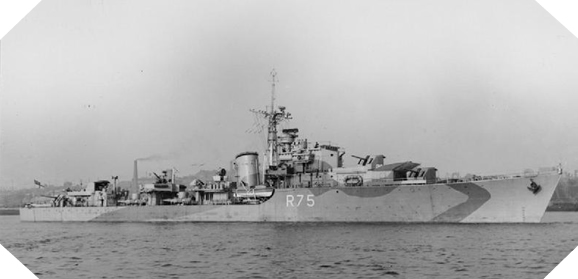 HMS Virago history
This class V destroyer was launched on 22 December 1942 and entered active service on 5 November 1943. It was named HMS Virago and deployed in the English Channel and the North Sea in the 26th destroyers fleet to conduct patrols and escorts.
In May 1944, as part of the preparation for Operation Overlord, it joined the Bombarding Force D, which was itself subordinate to Task Force S. It participated in Exercise Fabius on 3 May, the general rehearsal of the amphibious operations in Normandy. The Virago escorts the convoy S70W across the English Channel on the night of June 5-6, 1944 to Sword Beach. On D-Day, it participated in the fire support of the Allied troops landing at Lion-sur-Mer and patrolled in the sector until July.
Until December, he carried out new patrols and escorts in the English Channel and in the North Sea. After a rapid restoration, HMS Virago was deployed until the end of the Second World War in the Indian Ocean against Japanese maritime and air forces.
Returning to the United Kingdom, it served in the 3rd fleet of destroyers before being transformed into an anti-submarine frigate in 1953. Reactivated and placed in reserve several times, the Virago is permanently withdrawn from active duty in 1963: it is scrapped from 4 June 1965 in Faslane.
HMS Virago technical sheet
Creator/User: Great-Britain
Denomination: R 75 – H.M.S. Virago
Class: V-class destroyer
Crew: 180-225 sailors
Armament (1944): 4x 120 mm guns, 2x anti-aircraft 40 mm guns, 6x anti-aircraft 20 mm guns, 8x 533 mm torpedo tubes
Displacement: 1,710 tons
Speed: 37 knots
Length: 111 m
Beam: 10,87 m
Draught : 3 m