USS Fitch
Index of Allied warships during Operation Neptune
History, technical sheet and photo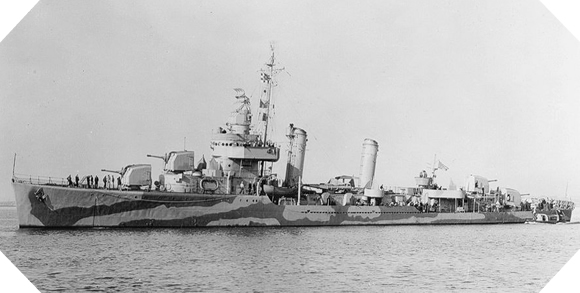 USS Fitch history
The USS Fitch was launched on 14 June 1941 and entered service on 3 February 1942. It began by escorting warships and then participated in amphibious operations off Morocco in November as part of Operation Torch. It then patrolled the English Channel and the North Sea before escorting new convoys across the Atlantic and patrolling the Caribbean Sea.
On April 25, 1944, it left Norfolk and made its way to Belfast to participate in Operation Neptune. On the night of June 5-6, 1944, it dragged the mines in the English Channel for the benefit of the allied fleet heading for Normandy. In the early hours of D-Day, it anchored off Utah Beach and bombed German positions in the area. It attended helplessly to the destruction of the USS Corry of which it embarked some of the survivors. The Fitch continued its fire support mission to US land forces until 19 June.
It was deployed in the Mediterranean Sea in July in order to participate in the following month in the landing of Provence, south of France. In November 1944, it returned to the United States to be transformed into a rapid minesweeper. Engaged in the Pacific from February 1945, it served in the 3rd Wing and participated in the armistice ceremonies on 2 September in Tokyo Bay.
Placed as a reserve on 24 February 1956, it was deliberately sunk during a shooting exercise off Florida on 15 November 1973.
USS Fitch technical sheet
Creator/User: United States of America
Denomination: DD 462 – U.S.S. Fitch
Class: Gleaves-class destroyer
Crew: 276 sailors
Armament (1944): 5x 127 mm guns, 6x 20 mm Oerlikon guns, 6x 12,7 mm Browning machine guns, 10x 533 mm torpedo tubes
Displacement: 1,630 tons
Speed: 37,4 knots
Length: 106,15 m
Beam: 11 m
Draught : 3,61 m