USS Tide – AM 125
Index of Allied warships during Operation Neptune
History, technical sheet and photo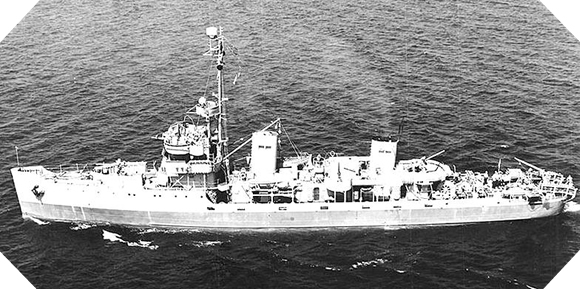 USS Tide history

The USS Tide was launched on 7 September 1942 and entered active service on 9 May 1943. Engaged in the escort of several convoys across the Atlantic and towards North Africa, it also carried out escort missions in the Caribbean Sea until January 1944.
From April to May 1944, it made escorts along the British coasts before being integrated into the "A" fleet of minesweepers. On the night of June 5-6, it operated in the English Channel to protect the convoys heading for Normandy, then on D-Day he worked off Utah Beach.
On the morning of June 7, at 9:40 am, it hit a mine which explosion lifted the ship a few centimeters out of the water. Irremediably touched, it flowed slowly while its captain, Lt. Cdr. Allard B. Heyward, was mortally wounded. Immediately assisted by the USS Pheasant and the USS Threat who rescued the survivors of the explosion, the USS Swift began to tow it to avoid sinking but this action broke the minesweeper in two and the Tide was lost in a few minutes under water.
USS Tide technical sheet

Creator/User: United States of America
Denomination: AM 125 – U.S.S. Tide
Class: Auk-class minesweeper
Crew: 100 sailors
Armament (1944): 1x 76 mm gun, 2x 40 mm guns, 8x 20 mm anti-aircraft guns
Displacement: 904 tons
Speed: 18 knots
Length: 67,44 m
Beam: 9,8 m
Draught: 3,28 m