Rosie the Riveter in Normandy for the D-Day 75th anniversary
On the left, the poster created by J. Howard Miller to fight against absenteeism in the factory. On the right, Norman Rockwell's illustration appeared in one of the Saturday Evening Post magazine in May 1943.
May 16th, 2019: Rosie the Riveter in Normandy for the D-Day 75th anniversary
"Rosie the Riveter" is the nickname given to the 6 million American women who worked in factories during the Second World War, replacing a traditionally male population, in the absence of some of the men who had gone to fight in Europe and the United States. Riveter being one of the characteristic trades of this industrial period, it is the drawing of a woman named "Rosie" and accompanied by a rivet gun that makes the front page of Saturday Evening Post magazine on the occasion of Memorial Day 1943, the day Americans honor the memory of their fighters. This Norman Rockwell drawing popularized the nickname "Rosie The Riveter" to honor the feminine contribution to the American war effort.
Five "Rosies" will travel to Normandy on the occasion of the D-Day 75th anniversary, specifically at the Colleville-sur-Mer American Cemetery on June 6, 2019. Thanks to the generosity of donors in Europe and the United States, these nonagenarians will be able to participate in the D-Day commemorations to which they have, in their own way, allowed the unfolding. During the war, these women worked in the shipyards of Richmond, California, which provided navy combat ships, especially the famous Liberty Ships. Without these "Rosies", the formidable American industrial-military complex could not have had the same importance and play such a role in the final victory of the Allies.
For one of them, Marian Wynn, this participation in commemorations will be particularly emotional. Her brother, Donald F. Parsons, was killed on July 28, 1944 during the Battle of Normandy, while serving with the 35th Signal Construction Battalion: he is buried at the Colleville-sur-Mer military cemetery. For 75 years, she had not had the opportunity to go there: she looks forward and anxiously the moment to discover the grave.
On the occasion of the commemoration of D-Day in 2019, these women will be honored as they deserve: like true veterans of the Second World War. They will be in Normandy from June 3 to June 10, and can be seen in particular at camp Geronimo in Sainte-Mère-Eglise.
The five "Rosies" participating in the commemorations:
Agnes Moore, 98, welder on Liberty Ship.
Phyllis Gould, 96, welder on Liberty Ship.
Marian Sousa, 92 years old, designer / architect of Liberty Ship.
Marian Wynn, 92, welder on Liberty Ship.
Mae Krier, 92, a riveter at Boeing in Seattle.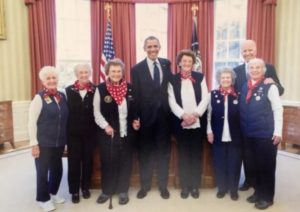 The "Rosies" had been received by US President Barack Obama at the White House.
Photo: White House.
DDay-Overlord.com – Reproduction subject to authorization of the author –
Contact