ALG B-10 – Plumetot
Battle of Normandy
This page presents the history of ALG (Advanced Landing Groud) B-10, used by the Royal Air Force during the Battle of Normandy.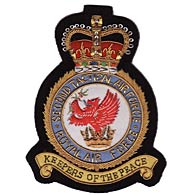 2nd Tactical Air Force
Location: Plumetot, Calvados (14)
Code: B-10 
Coordinates: 49°16'42"N – 000°21'20"W
Construction: June 10 to June 21, 1944 by the Royal Engineers 25th Airfield Construction Group
Operational period: from June 10, 1944
Length: 1 200 m
Width: 40 m
Azimuth: 145°
Number of airstrips: 2
Airstrip 1: compacted earth
Airstrip 2: Prefabricated Bituminous Surfacing (PBS)
Units:


– 35 Recce Wing (2 squadron using Mustang II aircraft, 4 squadron using Spitfire XI, 268 Bomb. squadron using Typhoon FR 1 aircraft)
– 123 Wing (198 squadron, 609 squadron) using Typhoon aircraft.
– 131 Wing (302 squadron, 308 squadron, 317 squadron – Poland) using Spitfire XIb aircraft.
 – 135 Wing (33 squadron) using Spitfire IXE aircraft.
– Spotting Wing (652 squadron) using Auster Mk IV AOP aircraft.
ALG B-10 history:
The ALG B-10 consists of two tracks, one in compacted earth, the other in PBS. It is the only English track in Calvados that is designed with PBS: it is a solid coating composed of layers of bitumen and Hessian fabric whose installation is particularly meticulous and requires the use of special machines.
ALG B-10 serves as a base for the Royal Air Force's 123 Wing from 1 to 19 July 1944 and three Polish squadrons on the 131 Wing from August to September 1944. Because of the particular lining of the main runway and from its location north of Caen, several Allied bombers in difficulty land. This aerodrome is used as ammunition depot until the end of the war.
DDay-Overlord.com – Reproduction subject to authorization of the author –
Contact