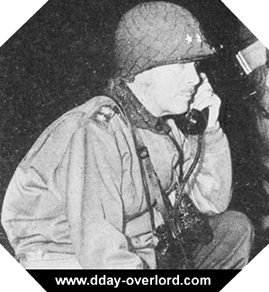 Raymond O. "Tubby" Barton
Biography
Raymond O. Barton was born in 1890 and in 1912 graduated from the West Point American military academy and chose the infantry. He took part in the First World War in France with the 1st Battalion of the 8th Infantry Regiment and returned to the United States only in 1923.
During the Second World War, from 3 July 1942 to 26 December 1944, he was the commander of the 4th Infantry Division. On D-Day, this unit is the spearhead of the landing at Utah Beach in the Cotentin. Raymond Barton is one of the seven American generals who have had the honor of commanding the same division throughout their time on duty.
After the Normandy campaign, Barton's 4th Infantry Division participated in the liberation of Paris and led its men into the furious battle of the Hurtgen Forest in September 1944, in the triangle formed by Aachen, Monschau And Düren, east of the border between Belgium and Germany. The fighting is very difficult, the American casualties are numerous, and General Barton does not hesitate to give his belt to a nurse, Russel J. York, so that he uses it as a garot. Of many lives saved, Barton personally decorated York of the Silver Star for his actions.
But at the age of 54 and Major General, he left his command on December 27, 1944, following serious health problems. During the war he became a friend of the journalist and writer Ernest Hemingway, who was posted as a war correspondent to the 4th Infantry Division.
He died in 1963 and was buried in Westover Memorial Park Cemetery in Augusta, Georgia.

Back to US Military biographies menu
DDay-Overlord.com – Reproduction subject to authorization of the author –
Contact