USS Glennon
Index of Allied warships during Operation Neptune
History, technical sheet and photo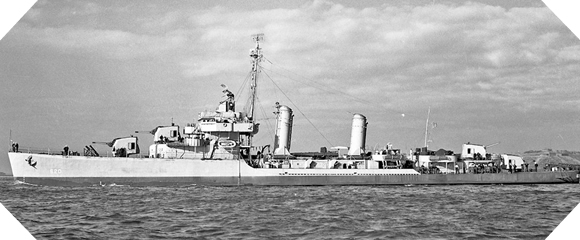 USS Glennon history
The USS Glennon was launched on 26 August 1942 and entered service on 8 October of the same year. After a series of training sessions, it was deployed in the Mediterranean Sea to participate in Operation Husky off Sicily from 9 to 15 July 1943. After returning to the United States, it then took part in a series of escorts of convoys across the Atlantic.
On May 14, 1944, it arrived in Belfast to participate in Operation Neptune. Integrated with the naval force U, it traveled to Utah Beach and participated on June 6 in the bombing of German positions in this sector. The next day, it again supported US ground forces and fired not less than 430 127-mm shells in the Quinéville area.
On June 8, 1944, at 8:30 am, the Glennon hit an underwater mine, the survivors were immediately taken over by four ships including the USS Rich destroyer and the USS Staff and Threat minesweepers, while the first steps were taken to keep the Glennon afloat. But the USS Rich suffered the same fate and touched three mines successively: it sank in fifteen minutes.
The next day, the sailors set out to regain control of the Glennon but it was caught under fire from the German battery of Quinéville which recorded a direct hit. The destroyer was finally abandoned and slowly sank until June 10: it sank at 21:45. A total of 25 crew members were killed aboard the USS Glennon and 38 were injured.
USS Glennon technical sheet
Creator/User: United States of America
Denomination: DD 620 – U.S.S. Glennon
Class: Gleaves-class destroyer
Crew: 276 sailors
Armament (1944): 5x 127 mm guns, 6x 40 mm guns, 6x 20 mm Oerlikon guns, 10x 533 mm torpedo tubes
Displacement : 1,630 tons
Speed: 37,4 knots
Length: 106,15 m
Beam: 11 m
Draught : 3,61 m