USS Rodman
Index of Allied warships during Operation Neptune
History, technical sheet and photo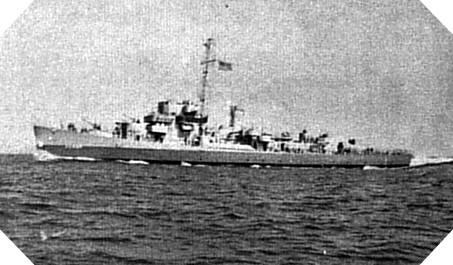 USS Rich history
The USS Rich was launched on 22 June 1943 and entered into service on 1 October of the same year. After a series of sea trials, it patrolled along the United States coast in the 19th escort squadron until February 1944.
Beginning in May, it is employed as convoy escort across the Atlantic and on 10 May it makes its last crossing. On June 4, it reached Plymouth and was sent to escort USS Nevada and paved the way for Task Force 125, a bombing force to attack German positions in the Utah Beach area. On D-Day, it set up a smoke screen designed to camouflage the most important warships against possible German E-Boote (speed torpedo boats) attack.
On 8 June at 8.30 am, the USS Glennon hit an underwater mine and the commander of Task Force 125.8, on board the USS Tuscaloosa, ordered USS Rich to lead the rescue mission. It launched a lifeboat and then started to circle around the damaged ship. As the Glennon was towed by the USS Staff minesweeper, the USS Rich touched an underwater mine at 9:20 am, which damaged all of its electrical circuit, but without further gravity. A minute later, the crew announced that it was able to restart the engines. But three minutes later, a mine exploded directly under the destroyer: it caught fire and its commander, Lieutenant Commander Michel, gave the order to abandon the ship which began to sink. A third mine came to give the knockout two minutes later. Meanwhile, the German batteries, like that of Quinville, opened fire on the damaged ship, encircled by small boats intending to rescue it.
In fifteen minutes, the USS Rich sank to twelve meters deep. In the end, 91 crew members were killed instantly or injured, and 64 were missing out of a total of 213 sailors. The wreckage was disarmed and all its major equipment were removed after the Battle of Normandy. It is now the prey of time, elements and divers.
USS Rich technical sheet
Creator/User: United States of America
Denomination: DE 695 – U.S.S. Rich
Class: Buckley-class escort destroyer
Crew: 213 sailors
Armament (1944): 3x 76 mm guns, 4x 28 mm antiaircraft guns, 8x 20 mm guns, 1x Hedgehog mortar, 9x 533 mm torpedo tubes
Displacement: 1,770 tons
Speed: 23 knots
Length : 93 m
Beam: 11 m
Draught : 3,43 m